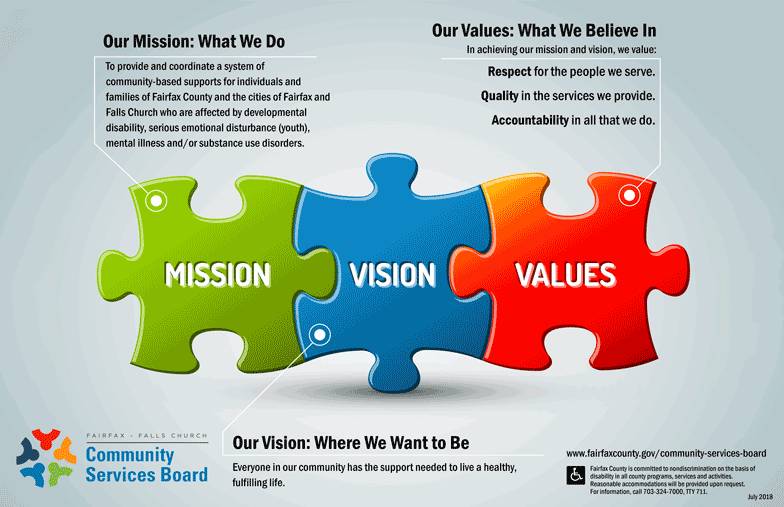 Where We Want to Be – CSB Vision
Everyone in our community has the support needed to live a healthy, fulfilling life.
What We Do – CSB Mission
To provide and coordinate a system of community-based supports for individuals and families of Fairfax County and the cities of Fairfax and Falls Church who are affected by developmental disability, serious emotional disturbance (youth), mental illness and/or substance use disorders.
What We Believe In – CSB Values
In achieving our mission and vision, we value:
Respect for the people we serve.
Individual dignity and human rights protection are at the center of the CSB service philosophy. Individuals are involved in developing service plans which address their needs and preferences. Feedback from service recipients is encouraged to assess program strengths and areas for improvement.
Quality in the services we provide.
The CSB offers a comprehensive array of preventative and responsive services that meet the needs of the Fairfax-Falls Church community. Services are provided by qualified professionals using methods proven to achieve positive, measurable outcomes.
Accountability in all that we do.
The CSB recognizes its responsibility to the Fairfax-Falls Church community by striving to provide services to people with limited resources or complex needs in an effective and efficient manner. Policies and procedures are communicated and accessible to all individuals and organizations with whom the CSB partners, and process improvement is supported by continuous data review.
Adopted Feb. 2020