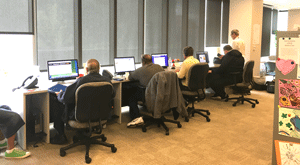 Updated June 19, 2017: The Fairfax-Falls Church Community Services Board (CSB) is amending the contract to continue services and programming at the Annandale Consumer Wellness Center (CWC), without interruption. CSB appreciates and values the outpouring of community support for continuing the CWC in Annandale. The news release below has been edited to reflect this change.
On July 1, 2017, Recovery Program Solutions of Virginia (RPSV) will become the Recovery Community Provider Organization responsible for Peer-Run Recovery and Drop-In Centers for Fairfax County, under a multi-year contract.
The new partnership will insure that peer-run recovery centers remain a viable, valuable asset in the continuum of care offered by the Fairfax-Falls Church Community Services Board. Recovery services will continue to evolve to meet the needs of people we serve.
Merrifield Peer Resource Center, Annandale Consumer Wellness Center, Reston Wellness Center and South County Recovery and Drop-in Center offer convenient locations for individuals to engage in recovery services across the county.
"You can feel the hope and positive energy when you walk into one of our peer-run resource centers," says Mark Blackwell, CSB's director of consumer and family affairs. "Living with mental illness or substance use disorders can be a hard road, even in recovery. Our centers are staffed by peers – people who have traveled that road and can share empathetic, informed support and resources. The new partnership provides an opportunity to consolidate and strengthen our peer-run services, which are so important for a healthy community."
For more information, call 703-559-3100.