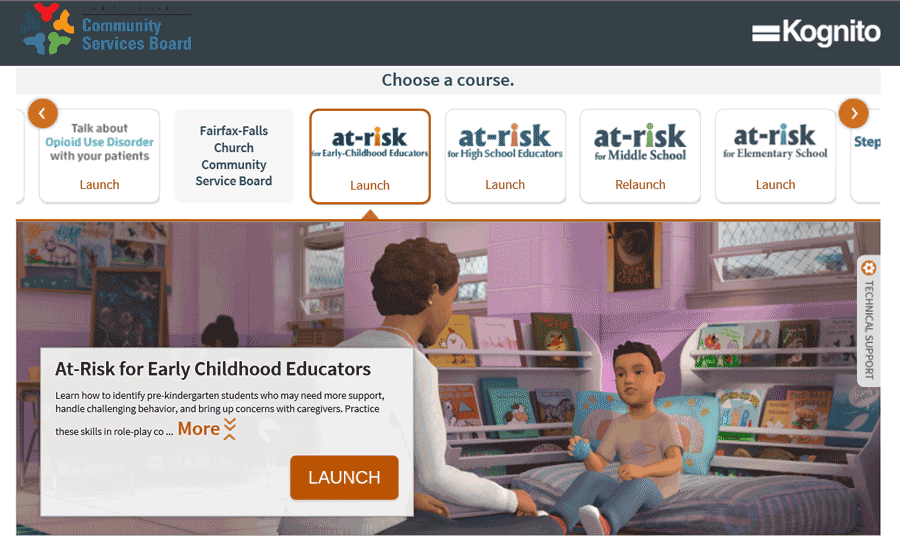 The Fairfax-Falls Church Community Services Board (CSB) expanded the County's online youth suicide prevention training modules this school year with two new online options focused on trauma-informed care practices for students ages pre-K through grade 12 and a suite of health care options (for nurses, clinic staff, and others in the health care field). 
Fairfax County contracts with Kognito, a leader in online and mobile learning experiences, for online youth suicide prevention training. Kognito's online courses use role-play conversations with virtual humans to prepare users to effectively manage challenging conversations about health. Several empirical studies have shown that Kognito simulations result in statistically significant and sustainable changes in user's attitudes, skills and behaviors. 
Previously, online training offerings included:
At-Risk for early childhood educators, elementary, middle, and high school trainings designed to prepare educators and other adults in the community to recognize when a young person shows signs of psychological distress and how to talk with a young person and connect them to supports.
Step in, Speak Up!, a 30-minute online module, helps concerned adults support youth who may be struggling due to harassment or exclusion related to gender identity, orientation or other differences.
Friend2Friend, a 30-minute online simulation geared towards teens, gives high school-aged teens a chance to practice helpful ways to talk with a friend who may be struggling with emotional or mental health distress.
In line with the County and Fairfax County Public Schools trauma-informed initiatives, the expanded suite includes:
Trauma-Informed Practices for K-12 schools (40 minutes).
Building Respect: Bullying Prevention (40 minutes).
A simulation for those working with military-connected youth to help with transitions (30 minutes).
A simulation for all students on resiliency and responding to loss in a school (60 minutes).
The health care suite has simulations for providers interested in screening and brief intervention with adolescents and talking about opioid use disorder with patients. Several of the healthcare simulations offer continuing education credits. 
All of these are now available for the general public through the CSB's website, 24/7 or visit https://fairfax.kognito.com and create a personalized, secure, password-protected user account.
Kognito trainings are funded by the CSB, regional Suicide Prevention Alliance of Northern Virginia (SPAN), the Virginia Department of Behavioral Health and Developmental Services and Fairfax County Public Schools.
Learn more about what you can do to help prevent the tragedy of suicide.