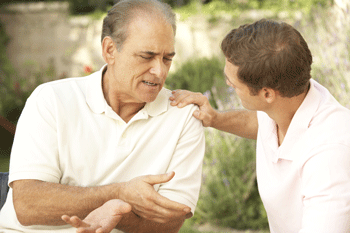 Los problemas relacionados con el uso de sustancias y la salud mental pueden ser tratados, y hay ayuda disponible.
Muchas personas tienen simultáneamente un problema de uso de sustancias y un trastorno mental. Es importante recibir tratamiento para los dos to get better. trastornos para mejorarse. El tratamiento funciona, y la recuperación empieza cuando usted mismo comprende que tiene uno o ambos de esos problemas.
Las siguientes preguntas le pueden ayudar a decidir si usted necesita ayuda con el uso de sustancias, con un problema de salud mental o con ambos trastornos.
¿Se ha sentido abatido, deprimido o desesperanzado en el transcurso de las últimas 2 semanas?
¿Ha sentido poco interés o placer al realizar actividades en el transcurso de las últimas 2 semanas?
¿Ha tenido problemas serios durante el último año sufriendo de insomnio, teniendo pesadillas o quedándose dormido durante el día?
¿Ha pensado en acabar con su vida durante el último año o ha contemplado suicidarse?*
*Si ha tenido pensamientos que indican que no quiere seguir viviendo o que quiere hacerse daño a sí mismo o a otras personas, hable con alguien (o envie un texto) inmediatamente. Llame al 1-800-273-8255 o envie un texto con la palabra "CONNECT" al número 855-11. Hágalo AHORA.
¿Ha tenido dificultades en el último año cuando trata de poner atención en las clases, en el trabajo o en su casa?
¿Alguna vez ha sentido que debe reducir su uso de alcohol o drogas (o sea, usar menos alcohol o drogas)?
¿Se siente molesto (irritado, enojado, etc.) con algunas personas porque han criticado su uso de alcohol o drogas?
¿Alguna vez se ha sentido mal o culpable sobre su uso de alcohol o drogas?
¿Alguna vez ha consumido una bebida alcohólica o una droga inmediatamente después de despertarse en la mañana (como abridor de ojos) para calmar sus nervios o aliviar la resaca?
En los últimos tiempos, alguna vez:
(para hombres), ¿Ha tomado 5 o más bebidas alcohólicas en un día?
(para mujeres o cualquier persona mayor de 65), ¿Ha tomado 4 o más bebidas alcohólicas en un día?
¿Ha usado drogas recreativas ilícitas o drogas recetadas para alcanzar un estado de euforia ("high")?
A menos que haya contestado "nunca" a todas las preguntas anteriores, hable con un médico, enfermera o consejero sobre los detalles de su situación. Estas personas le pueden ayudar a decidir qué debe hacer a continuación, como también a encontrar más información y recursos.
Para obtener información sobre recursos en la communidad, llame a La Junta de Servicios Comunitarios (CSB) de Fairfax y Falls Church:
Números de emergencia – atención las 24 horas
Número de teléfono principal para acceder a los servicios: (Servicios de admisión y derivación):

703-383-8500

, TTY 711. Para español, imprime el número 2.

CSB provee servicios para personas con trastornos mentales, desórdenes de abuso de sustancias, discapacidades intelectuales y para niños con retraso en el desarrollo.
Los jóvenes y los adultos pueden venir en persona también, sin cita previa, para ser examinados para los servicios, al Centro Merrifield, en la oficina de Ingreso y Referencia de CSB, de lunes a viernes, de 9 a.m. a 5 p.m. [Aprenda lo que sucede durante una evaluación.]
Centro Merrifield
8221 Willow Oaks Corporate Drive
Fairfax, Virginia 22031


703-559-3000

, TTY 711
Los servicios de apoyo de los compañeros también disponibles.
Una vida mejor y más saludable puede estar más cerca de lo que usted piensa.
This content is based on information published in 2010 by the Substance Abuse and Mental Health Services Administration of the U.S. Department of Health and Human Services.