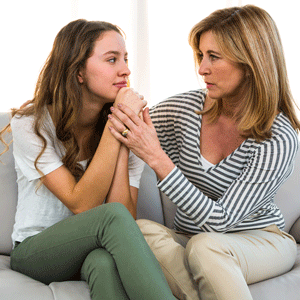 The Fairfax-Falls Church Community Services Board (CSB) provides behavioral health services for children and youth who have serious emotional and mental health issues and/or substance use issues. Based on an individualized assessment, children, youth and families are offered a treatment plan tailored to their specific strengths and needs.
If your child is having a mental health crisis, these services are available 24/7:
Below are several options for you to speak with a mental health professional. Do not worry about making the wrong choice. Every number leads to someone who can help.
Accessing Services
[Not sure you need us? Take one of our quick, confidential online screenings.]
Types of Services
Outpatient Services
Outpatient services include mental health and substance use treatment, as well as case management and psychiatric services when indicated. Services are provided for children and youth (and their families) who have serious emotional and mental health issues and for those who have substance use or substance dependency issues.
Intensive Treatment Services
Partnerships
Healthy Minds Fairfax is a partnership between the CSB, other county child-serving agencies, Fairfax County Public Schools, providers and families to improve access to behavioral health services for children and youth and to enhance the quality of services. HMF provides:
Fees for CSB Services