(Posted 2019 September, Updated 2022 October)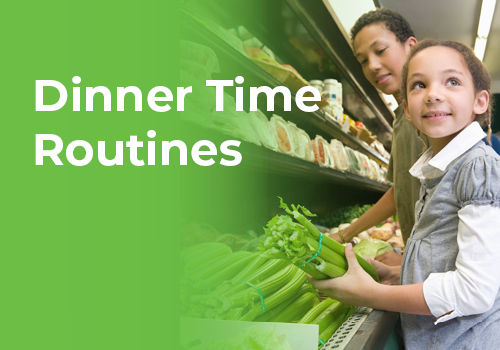 How do you picture your ideal family dinner? Think about it for a second...Did you imagine your entire family together at the table, enjoying a delicious home-cooked meal, all the while chatting with each other about how everybody's day went?
Way too often modern dinner time is totally different from that picture!
Extracurricular activities, work commitments, and school events can all compete for family members' time and squeeze out the best intentions of parents everywhere. Maybe as a kid, your own dinner time was chaotic or maybe there were issues of food insecurity that made dinner time a struggle. These factors can make it even harder to figure out how to make dinner time positive for your own family.
The experts in DFS' Parenting Education Programs recommend some ways to establish a parenting routine to bring some peace to dinner time:
1. Reinforce personal choice in eating
Involve children in creating a weekly menu, shopping for food, and cooking. Engaging children in the process makes them more interested and excited to eat the meal.
Allow children to serve themselves, so they learn how to choose healthy portion sizes.
Abolish the clean-plate rule. Children will naturally stop eating when their bodies signal that they are full.
2. Set the stage for mealtime
Help everyone transition by letting them know the meal will start in ten minutes.
Invite children to set the table.
Establish a "wash hands" before eating rule.
Find a pleasant way to invite your family to come eat.
Avoid using a commanding tone of voice.
Play a special mealtime song, ring a dinner bell, or set an alarm so everyone knows that dinner will begin soon – or have one child let others know that food is ready.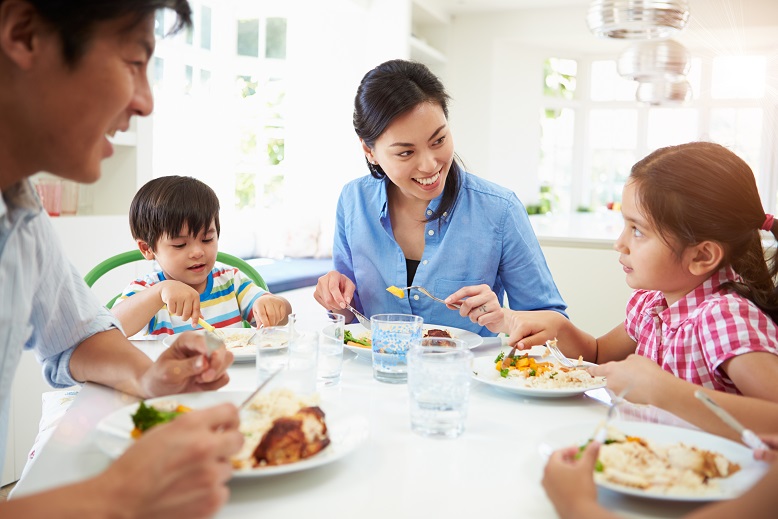 3. Keep the focus on family time during dinner
Turn off the TV, and don't allow screens at the table.
Ask leading questions to get your kids talking about the day's events. Google "open-ended questions" for ideas. Here are a few to get you started:

What did you like best about today?
Did anything make you feel bad (or sad) today?
How were you a helper today?

Teach mealtime etiquette by example: chewing with mouth closed, not talking when eating, using a napkin (not a hand or sleeve).
4. Work together to clean up
Have each person clear his/her place at the table.
Have all family members help clean-up after the meal. Assign age-appropriate tasks such as loading the dishwasher, putting away leftovers, sweeping, etc.
Use these tips to make dinner an opportunity for your whole family to connect with each other.
Return to the Parenting Education Programs' Back to School Routines series' page to learn more tips.
The Parenting Education Programs is now enrolling for upcoming classes. Join us for more information about positive and effective ways parents can interact with their children at every age and stage of development. We would love to hear from you. If you have questions or feedback about the topic in this article email us.
Content in this article is based on the Parenting Education Programs class curriculum: Establishing Nurturing Parenting Routines. Nurturing Program for Parents and Their School Age Children 5 to 11 years (p. 92-95) by Stephen J Bavolek, Ph.D.
---
This posting is part of the Department of Family Services' Community Corner where you'll find timely information about upcoming events, parenting and wellness tips, programs and services, and more! Share these helpful posts with your friends and family. Don't miss out on future postings; sign-up today!