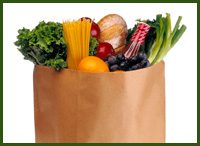 The Supplemental Nutrition Assistance Program (SNAP), formerly known as "food stamps," can be used like cash to buy food from authorized retailers. Recipients will receive an EBT Card, which will debit the account each time eligible food items are purchased. A secret Personal Identification Number (PIN) is required to use the card. 
Find out if you are eligible for SNAP.
Read more information about work requirements, items that can and cannot be purchased, forms and more.
Apply online, over the phone (1-855-635-4370), or visit one of our locations: