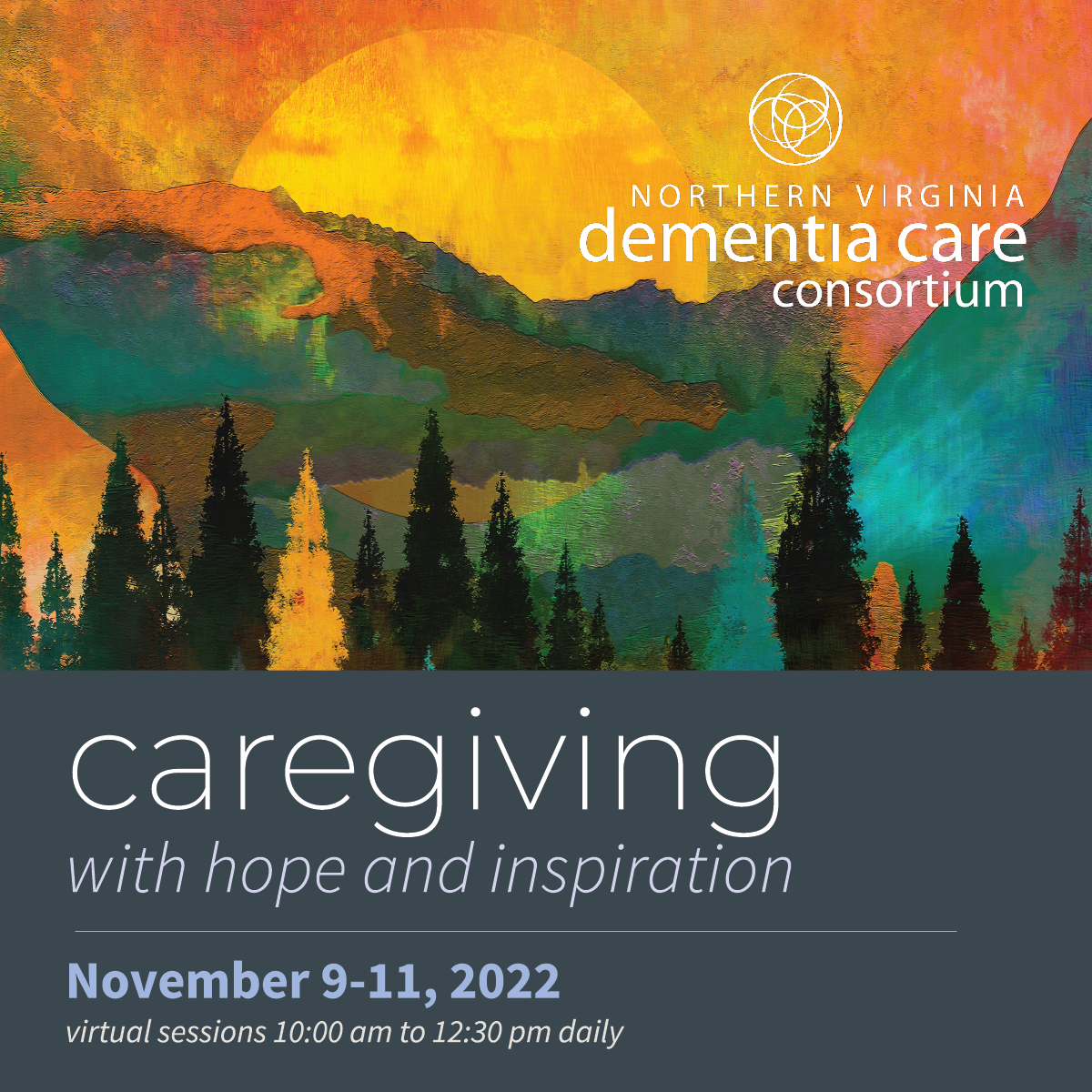 Wednesday, Nov. 9 - Friday, Nov. 11, 2022
The Northern Virginia Dementia Care Consortium has been educating caregivers since 1986. This year's conference keynote speaker is Peter V. Rabins, MD MPH, author of "The 36-Hour Day."
Join us to become better prepared to provide care and support at home or in a facility, learn new ways to engage individuals with dementia, and visit with exhibitors who offer supportive services.
This conference is open to family caregivers, volunteers working with older adults, and professionals in aging and related services.
Virtual Sessions Daily
Day 1 - Wednesday, Nov. 9, 2022 
10:00 - 10:15 a.m. – Opening Remarks
10:15 - 11:15 a.m. - The 36-Hour Day, Peter V. Rabins, MD MPH
11:20 a.m. - 12:20 p.m. - Let's Improvise! Navigating Dementia (and Life) With Creativity, Humanity, and Joy
Day 2 - Thursday, Nov. 10, 2022
10:00 - 10:15 a.m. – Opening Remarks
10:15 - 11:45 a.m. - Unmasking Alzheimer's: Evaluation, Treatment, and Clinical Trials
11:55 a.m. - 12:25 p.m. - Meaningful Music
Day 3 - Friday, Nov. 11, 2022
10:00 - 10:15 a.m. – Opening Remarks
10:15 - 11:15 a.m. - Communicating With a Loved One With Dementia
11:20 a.m. - 12:20 p.m. - Celebrating Creativity in Elder Care
The conference sells out quickly; reserve your spot today.
Registration is now open.
Need accommodations to participate? Call 703-204-4664 ext. 131.
Learn more about this conference, each day's sessions, speakers, and
registration ONLINE or call 703-204-4664 ext. 131.
The 36th Annual Caregivers Conference is provided by the Northern Virginia Dementia Care Consortium.
AARP Virginia
Arlington Aging and Disability Services
Alzheimer's Association
City of Alexandria Area Agency on Aging
ElderLink
Fairfax Area Agency on Aging
Fairfax County Health Department
Goodwin House Incorporated 
GraceFul Care, Inc.
Inova Parkinson's and Movement Disorders Center
Insight Memory Care Center
Loudoun County Area Agency on Aging
---
Learn about Fairfax County Department of Family Services Older Adults' Services and Family Caregiver Support Programs.