A campaign to promote Fairfax County's Adult Day Health Care program has been honored by the National Public Health Information Coalition (NPHIC).
The "Live Your Best Life" campaign received a bronze award in the government health marketing category of the 2018 Berreth Awards, recognizing excellence in public health communication. The awards are named for the late Donald Berreth, former director of the Office of Public Affairs for the Centers for Disease Control and Prevention (CDC) and NPHIC's founder.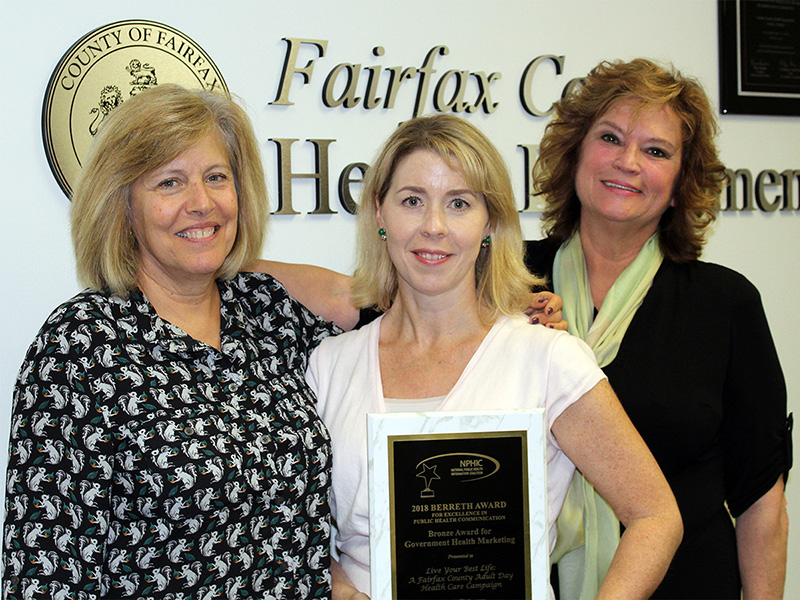 The announcement was made as communication professionals from around the world gathered in Atlanta, Ga. last week for the NPHIC Advance Knowledge Track and the NPHIC/CDC National Conference on Health Communication, Marketing and Media.
The Fairfax County Health Department's Adult Day Health Care program has been around since 1980. The marketing program refreshed the image of the service by shining a spotlight on its unique ability to connect older adults with living a great life, despite a lack of ability for total independence. The campaign refreshed the program's brand and leveraged both internal and external communication assets to grow daily attendance.
Through this marketing effort, and through entrenching Adult Day Health Care even deeper into the Fairfax County community, we have reconnected people with a robust life. Both our program participants, who have a new ability to socialize, receive health monitoring, and cognitive care, and Fairfax County family caregivers, who enjoy respite and the peace of mind that comes with knowing their loved one is safe and happy, said Shauna Severo, assistant director of patient care services, Fairfax County Health Department.
Gold, Silver and Bronze Berreth Awards were presented in four categories: Government Health Marketing Campaign, Not-for-profit Health Marketing Campaign, Corporate Health Marketing Campaign and Real Time Risk Communication. A panel of judges from the ranks of those professionals who have achieved Certified Communicator in Public Health status evaluate the submissions for the Berreth Awards each year.
All of the recipients of the Berreth Awards for Excellence in Public Health Communication have been recognized by their peers as among the year's best in public health communication, said NPHIC President Polly Carver-Kimm. Congratulations and thank you for helping NPHIC achieve our common mission to 'make public health public'.
All the award-winning entries may be viewed online at https://www.nphic.org/ba.
The Fairfax County Health Department operates four Adult Day Health Care Centers in Herndon Harbor, Lewinsville, Lincolnia and Mount Vernon. Any potential participant and their caregiver is invited to come in for complimentary lunch and a tour. Make your reservation by calling 703-246-8743adultday@fairfaxcounty.gov. More information about the program can be found at www.fairfaxcounty.gov/health/adult-day-health-care.
or email
Contact Name
John Silcox, Public Safety Information Officer