Every day I wake up and say "how am I going to make a difference?" I want to bring participants comfort and show them love and respect every day.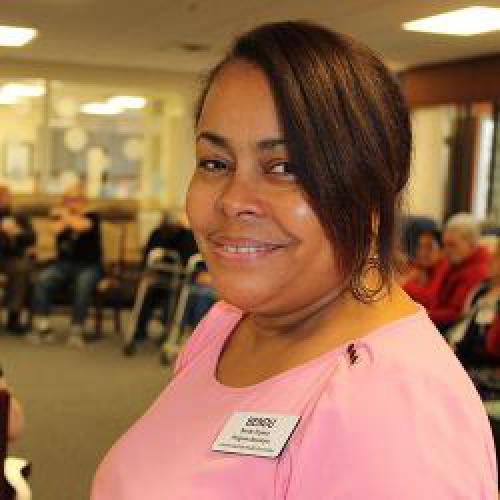 Those were the words shared by Sendu Feyssa after she was named employee of the year for Adult Day Health Care on March 14. Sendu works at our Lincolnia Center as a program assistant.
"Sendu exemplifies excellence," said Martha Armstrong, recreation therapist in Lincolnia and Sendu's supervisor. "She wants the best for all who attend the Center, and for her co-workers."
Sendu excels in protecting the dignity of Adult Day Health Care participants, particularly when it comes to managing their personal care. Her coworkers comment on how she is respectful to everyone and consistently goes the extra mile for participants. "Her word is her bond," Martha said, commenting that Sendu is honest, ethical, and shows integrity at all times.
In an effort to spread the word about the Center among the local Ethiopian community, Sendu organized an outreach program whereby she purchased Ethiopian coffee and cuisine and provided translation during the community gathering. In fact, Sendu is a translator to an Ethiopian participant who does not speak English — ensuring she is engaged all day, every day.
Do you want to learn more about the Lincolnia Adult Day Health Care Center? Join us for lunch and a tour!