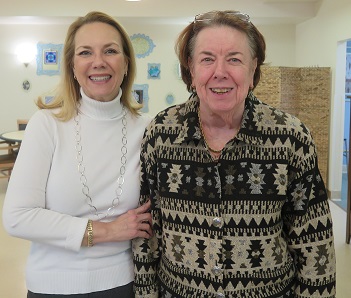 ​No one plans to be a caregiver. But each day, people with school-age children of their own need to rise to the task of caring for a parent or another adult relative.
That is exactly the situation Fairfax County resident Leslie found herself in after her father passed away and her mother, Beverly, moved-in to Leslie's home.
With a 14-year-old daughter and a recently retired husband, Leslie suddenly became a member of the "sandwich generation" — people who are simultaneously caring for the needs of an aged parent and their own child.
The transition was not easy for the family, so Leslie looked for resources.
I work for Fairfax County and I had no idea about Adult Day Health Care. It is the best hidden gem in the area.
Leslie enrolled her mom in the Herndon Harbor Adult Day Health Care Center and immediately saw positive changes in Beverly's health and demeanor.
"She is doing things I never knew she could do — like dancing! She enjoys the exercise and the field trips," Leslie said. "She feels like a queen here. The staff and volunteers make her feel special each day."
Beverly adapted easily to her new daily life at the Center. And Leslie took note.
"I knew she was assimilated when she asked for a 'red walker with wheels.' My mom doesn't even need a walker, but some of her friends at the Center have them — so she wanted one, too! She loves sitting with people, talking, and having lunch. It's a special place," Leslie commented.
The Adult Day Health Care Center in Herndon Harbor is a great resource for people who live and/or work in the Reston, Herndon and Great Falls areas. For more information or to come in for a center tour and lunch, contact us.