Ten county eateries recognized for outstanding food safety practices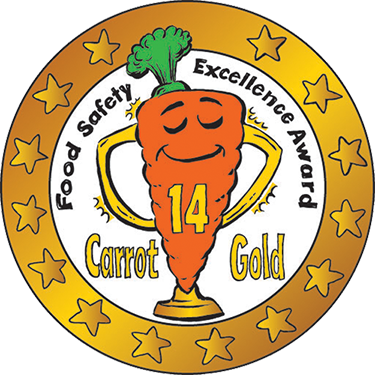 The Fairfax County Health Department has announced the winners of its 14 Carrot Gold Food Safety Excellence Award for 2017.
Ten local food service operations, including two catering companies, two fast-casual Mexican restaurants, a local high school, a Fortune 500 company café, a grocery store, and a group home for girls, are being recognized for maintaining outstanding food safety practices and employee education. This year's winners were selected from the more than 3,400 permitted establishments inspected each year by environmental health specialists with the Health Department. 
The 2017 recipients of the Fairfax County Health Department's 14 Carrot Gold Food Safety Excellence Award are:
Annandale High School, 4700 Medford Dr., Annandale.
Atrium Catering & Event Design, 263 Sunset Park Dr., Herndon.
Aurora House Girls Group Home, 420 South Maple Ave., Falls Church.
Five Guys Burgers and Fries, 8971 Ox Road, Lorton.
FLIK at Freddie Mac HQ4 Café, 1551 Park Run Dr., McLean.
Moe's Southwest Grill, 5005 Westone Plaza, Chantilly.
Qdoba, 10338 Main St., Fairfax.
Ruby Tuesday, 7692 Richmond Highway, Alexandria.
Simply Elegant, 11600 Sunrise Valley Dr., Reston.
Wegman's Food Markets, 11620 Monument Dr., Fairfax.
We instituted this awards program to recognize food service facilities that place a high importance on food safety practices and policies, said Environmental Health Director Pieter Sheehan. While every food service facility is required to meet minimum food safety requirements, these ten establishments are to be commended for going above and beyond to safeguard their patrons from the risks of foodborne illness.
In receiving the award, Robert Henry with Wegman's Food Markets noted: Food safety is more than our mission — it is the beacon that guides our day.
Food service establishments can be nominated for the award by members of the food service industry, the public, or from health inspectors. An awards team from the Health Department reviews the nominations and selects winners. Awardees receive a plaque and recognition in the Department's newsletter and website.
To be eligible for consideration, recipients of the 14 Carrot Gold awards cannot have any critical violations during inspections conducted in the last 24 months, and no more than six non-critical violations in the past year. The facility must also have a valid permit to operate and be in good standing with the Health Department.
The Health Department's Environmental Health division conducts close to 8,500 site visits at more than 3,400 restaurant and food service establishments annually in Fairfax County and the cities of Fairfax and Falls Church. Health inspectors look for potential risk factors that contribute to foodborne illness, such as an unapproved food source, poor food employee hygiene, improper cooking temperatures, inadequate cold and hot holding of food, and cleanliness of food contact surfaces.
The department also reviews food establishment plans; responds to citizen complaints and inquiries; investigates foodborne illness outbreaks to determine the source and to minimize the spread of disease; provides food safety information; and holds food safety trainings and workshops.
For more information about the food safety program or to review inspection reports, visit https://www.fairfaxcounty.gov/health/food or call 703-246-2444, TTY 711.
Contact Name
John Silcox, Public Safety Information Officer