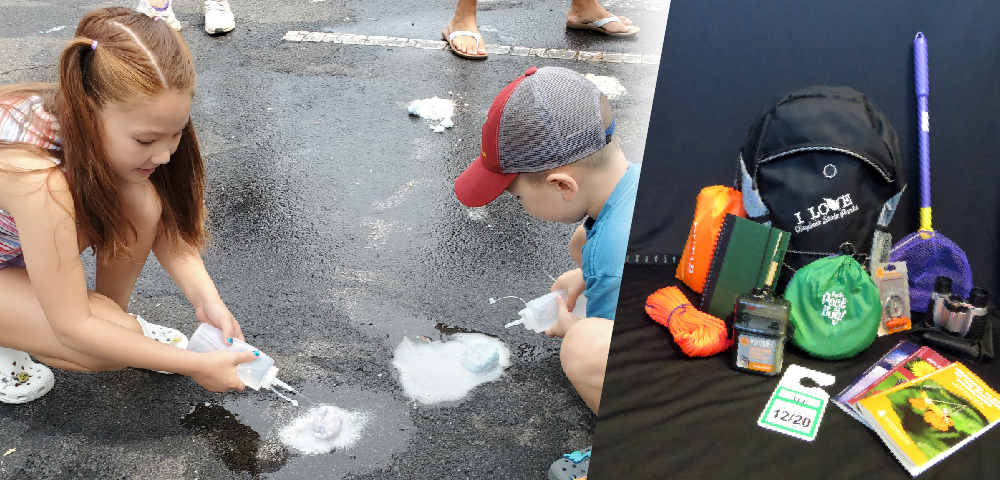 Expand your child's world by taking learning outdoors.
---
By Charlotte Frank, FCPL Early Literacy Assistant
---
Creating a purposeful learning experience for children is as easy as exposing their senses to the sights and sounds of their neighborhood. Bringing children outside and giving them simple tools like paper cups, sticks, water and dirt can promote an imagination-filled afternoon in which they can play and engage in their own learning. This type of learning aligns with American Academy of Pediatrics research stressing the importance of play and outdoor interactions for healthy brain development in children.
Outdoor Mathematic Sensory Engagement
Stanford University's Early Math Education blog discusses how children's exposure to mathematics during outdoor play increases early math skills and positive feelings about learning math. Preschoolers love to explore the world around them, so cater to their excitement by taking them on a sensory scavenger hunt and collecting treasures along the way.
While on the walk, support mathematical thinking by asking open ended questions and making comparisons between the objects they find: "Which leaf is the biggest?" or "Which rock feels heavier?". When you get home, have children arrange their materials in categories and listen to their placement reasoning.
Further natural learning ideas include testing leaf buoyancy with paperclips, measuring shadows of objects at different times of day, and making natural animal collages, like those found in Leaf Man by Caldecott honor-winning author-illustrator Lois Ehlert.
Extending Learning With Library Resources
The library offers many resources for children and adults to begin learning about and appreciating nature. Check out the library's I Love Virginia State Parks nature backpacks available for two-week loans. Place a hold on one of these backpacks through the library catalog then pick it up at your local branch. Each backpack contains a free pass to Virginia State Parks as well as many items to jumpstart an outdoor learning expedition.
Other helpful nature-related items you can find in the library's collection include these titles:
FCPL also offers cardholders many digital resources, like Scholastic Go!, Just for Kids (Access Video on Demand), and Kanopy Kids. The future of our planet depends on our children and their appreciation for it, so go outside, explore and learn about the natural world together!