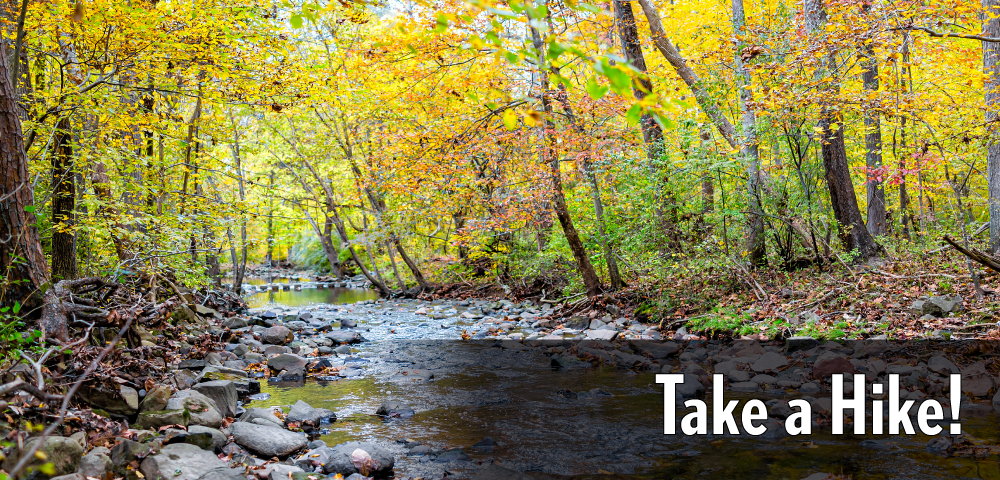 Finding Nature Next Door to Your Local Library.
---
By Alana Quarles, Assistant Branch Manager, Centreville Regional Library
---
Studies have shown that spending time in nature has numerous health benefits, offering both cognitive benefits and improvements in mood, mental health and emotional well-being, according to research published by the American Psychological Association.
If you're in search of some green tranquility, then look no further than your own backyard. Fairfax County has more than 400 parks spanning over 23,000 acres of land, in addition to 325 miles of trails! So, the next time you visit your local Fairfax County Public Library branch, consider finding nature next door. Check out these local parks and trails right next door to your favorite library branch.
Access Services: Carney Park, Government Center Pkwy & River Forth Dr., Fairfax, VA 22030
Burke Centre: Poburn Woods Park, 6325 Wendy Ann Court, Fairfax Station, VA 22039
Centreville Regional: Historic Centreville Park, 5714 Mt Gilead Rd, Centreville, VA 20120
Chantilly Regional: Ellanor C. Lawrence Park, 5040 Walney Road, Chantilly, VA 20151
City of Fairfax Regional: Fairfax Villa Park, 4420 Belden Street, Fairfax, VA 22030
Dolley Madison: McLean Central Park, 1468 Dolley Madison Boulevard, McLean, VA 22101
George Mason Regional: Mason District Park, 6621 Columbia Pike, Annandale, VA 22003
Great Falls: Great Falls Grange Park, 9818 Georgetown Pike, Great Falls, VA 22066
Herndon Fortnightly: Stanton Park, 910 Third Street, Herndon, VA 20170
John Marshall: Lee District Park, 6601 Telegraph Road, Franconia, VA 22310
Kings Park: Kings Park Park, 8717 Trafalgar Court, Springfield, VA 22151
Kingstowne: Levelle W. Dupell Park, 6812 Newington Road, Lorton, VA 22079
Lorton: Lorton Park, 9518 Richmond Highway, Lorton VA,22079
Martha Washington: Mount Vernon District Park, 2017 Bell View Blvd, Alexandria, VA 22307
Oakton: Oakborough Square, 2890Oakborough Square, Oakton, VA 22124
Patrick Henry: Nottoway Park, 9537Courthouse Road, Vienna, VA 22181
Pohick Regional: Rolling Valley WestPark, 6512 Sydenstricker Road, Burke,VA 22015
Reston Regional: Reston North Park, 11760Stevenage Rd, Reston, VA 20194
Richard Byrd: Springvale Park, 6508Spring Road, Springfield, VA 22150
Sherwood Regional: Little HuntingCreek Park, 8229 Holland Road, Alexandria, VA 22306
Thomas Jefferson: Tyler Park, 7216 Rice Street, Falls Church, VA 22042
Tysons-Pimmit Regional: Tysons Pimmit Park, 2026 Burfoot Street, Falls Church, VA 22043
Woodrow Wilson: Baileys Park, 3414 Glen Carlyn Drive, Falls Church, VA 22041
In addition to these parks, there are hundreds more! For more information and additional locations, including recreation centers and golf courses, click here.
If you're ready to hit the trails –bike, cross country, equestrian, nature or first hike— be sure to check out the mobile friendly Fairfax County Trail Buddy map.
Fairfax County Parks and Recreation hosts multiple events each month that get you out in nature. From stargazing to plant swaps and campfire events, there is more than one way (and more than one place) to get outside and reconnect with nature. Check out the upcoming events.