Summer Listings Online Now!
Browse on-line listings, check class enrollment and register with a few clicks of your mouse.
Summer Class Registration Begins May 1
Camp Registration Underway
Internet registration offered daily,
5 a.m. to 11 p.m.
Groundbreakings and Openings
Winners of the Fairfax County Park Authority's "Celebrate the Senses!" youth poetry contest were honored on Saturday, April 21, 2018, at the SpringFest Fairfax celebration at Sully Historic Site in Chantilly, VA. In recognition of National Poetry Month in April, the Park Authority invited children in grades kindergarten through eighth grade to write poems inspired by what they see, touch, taste, smell and feel in Fairfax parks. Two winners in each age category were selected from 115 entries. The six winners received $100 parks prize packs and were invited to read their poems at Springfest Fairfax. The contest was supported in part by the Fairfax County Park Foundation. Back Row (left to right): Roberta Longworth, Fairfax County Park Foundation Executive Director; Lane Brooks, Fairfax County Park Foundation Board Treasurer; Sagar Gupta, eighth grader at Rachel Carson Middle School; Jasmine Carlos, eighth grader at Holmes Middle School; Kate Schlageter-Prettyman, fifth grader at Fairhill Elementary School; Sara Baldwin, Deputy Director of the Fairfax County Park Authority; and Cristin Bratt, Deputy Public Information Officer of the Fairfax County Park Authority. Front Row (left to right): Kenzy Abdelmoneim, first grader at Medina Montessori School; Zoya Quraishi, kindergarten homeschool student; and Lubabah Qazzaz, fourth grade homeschool student. For more information on the poetry contest and showcase, visit the Poetry Contest. Media Note: Click image to download. See more photos at: https://www.flickr.com/photos/ffxparks/albums/72157692950870792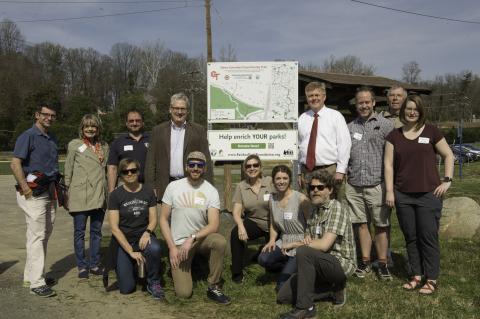 On Friday, April 13, 2018, Braddock District Supervisor John Cook, Park Authority Executive Director Kirk Kincannon and Park Foundation Executive Director Roberta Longworth joined REI Regional Partnership and Philanthropy Manager Matt Liddle as new wayfinding signs were installed along the Gerry Connolly Cross County Trail. REI funded these trail improvements, which included the addition of 15 new signs. Park Authority, Park Foundation and REI staff members gathered near a sign located in Americana Park in Annandale, Virginia to celebrate their installation. Media Note: Click image to download.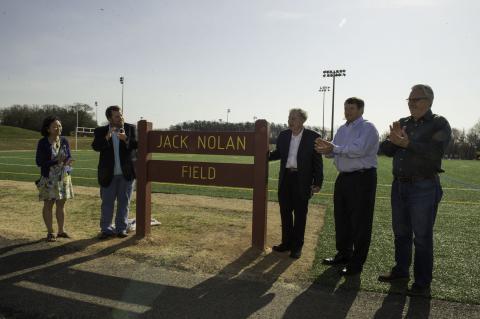 On Saturday, April 14, 2018, the Fairfax County Park Authority renamed South Run District Park Athletic Field #5 in honor of Jack Nolan, a longtime coach, leader and advocate of youth soccer in the Springfield District. In the late 1970s and early 1980s, Mr. Nolan served as a coach for several soccer teams in the Springfield Youth Club (SYC). His success on the field led to leadership roles with SYC, the Fairfax County Soccer Council and the Athletic Council. He was instrumental in the development of a rectangular field allocation policy. Pictured in the photo, from left to right: Delegate Kathy Tran, Virginia House of Delegates; Michael Thompson, Fairfax County Park Authority Board, Braddock District Representative; Jack Nolan, Honoree; Pat Herrity, Braddock District Supervisor; and Kirk Kincannon, Executive Director, Fairfax County Park Authority Executive Director. Media Note: Click image to download See more photos at https://www.flickr.com/photos/ffxparks/albums/72157667906535368.