Spring Registration Underway
Browse on-line listings, check class enrollment and register with a few clicks of your mouse.
Spring Class Registration Underway
Camp Registration Underway
Internet registration offered daily,
5 a.m. to 11 p.m.
Extended to Feb. 28, 2018
Save 15% on 4- and 12-month Memberships
NO Initiation Fee or Residency Restrictions
Available at all Park Authority RECenters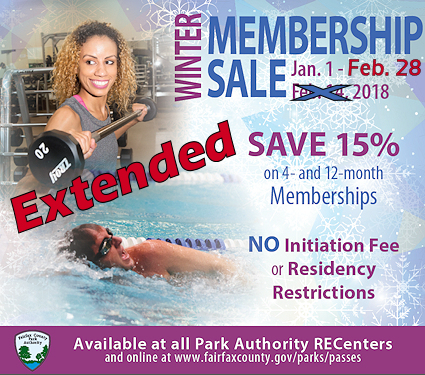 Groundbreakings and Openings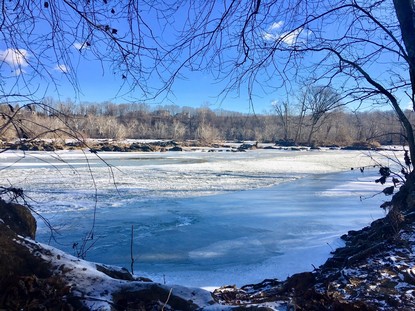 Patricia Strat's wintry photo of Riverbend Park was named the winner in the 2018 First Hike Fairfax Photo Contest. Despite the frigid weather on January 1, 2018, the Park Authority received more than 130 photo entries from people who hiked one of five designated Fairfax trails to celebrate the new year. After Park Authority staff narrowed the entries down to ten, Facebook users were asked to select favorites by "liking" photos. More than 1,134 likes were received with Ms. Strat's photo garnering 289 votes. As the winner, she received a four-month RECenter pass valued at up to $300. A one-month RECenter family pass was also awarded to runner-up Jane Durrett for her photo of David Durrett and Harvey Durrett experiencing the joy of Cub Run Stream Valley Park. Media Note: Click image to Download. See more photos at: https://www.flickr.com/photos/ffxparks/sets/72157690292000901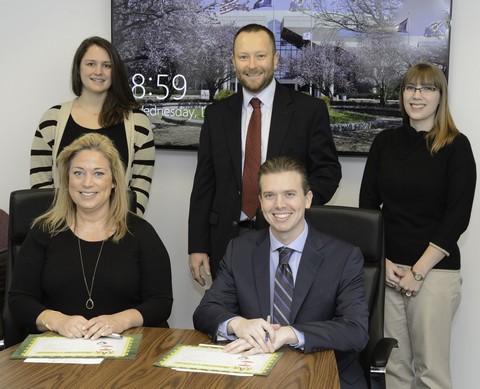 The Fairfax County Park Authority signed an agreement with ServiceSource's Pathways to Careers initiative on December 13, 2017, in an effort to provide adults with disabilities internship opportunities in programs and activities operated by FCPA. The ultimate goal of the partnership is to provide competitive employment opportunities for qualified individuals in some of the more than 10,000 programs offered annually by the Park Authority. ServiceSource's Pathways to Careers initiative supports integrated and customized work opportunities for individuals with disabilities in the DC metro region. For more information about Pathways to Careers, please contact Pathways to Careers Employer Relations Coordinator John Gyourko at 571-249-9468 or john.gyourko@servicesource.org.  Pictured from left to right in the front row are: Sara Baldwin, Acting Executive Director, Park Authority; John Gyourko, Pathways to Careers Employer Relations Coordinator, ServiceSource; Second row: Kasey Kahmann, SourceAmerica; Ken Crum, Regional Executive Director, ServiceSource; and Jennifer Cardona-Kellett, Pathways to Careers Program Manager, ServiceSource.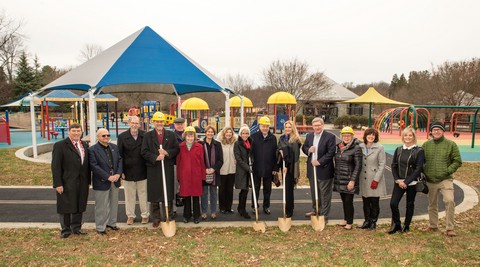 A groundbreaking ceremony was held on Friday, December 8, 2017, for a new birthday party shelter at Clemyjontri Park in McLean, Virginia. The shelter is being fully funded thanks to grants from the McLean Community Foundation, the Rotary Club of McLean, Friends of Clemyjontri and individual gifts to the Fairfax County Park Foundation. The $80,000 project is scheduled for completion by spring 2018. Pictured from left to right are: From the Rotary Club of McLean: Vance Zavela, President of McLean Rotary Club Foundation; Thamir Al'Hashimi, Rotarian; Michael Arietti, Rotarian; Bob Jansen, President of Rotary Club of McLean; Gene Durman, Rotarian; Jan Auerbach, Rotarian; and Carol Stone, Rotarian. From the Fairfax County Park Foundation: Bobbi Longworth, Executive Director. From the Friends of Clemyjontri Park: Julie Clemente, Board Director; Dan Clemente, Board Director; and Rachel Georgelas, President. From the Fairfax County Board of Supervisors: John Foust, Dranesville District Supervisor. From the McLean Community Foundation: Janet Tysse, President; Amy Swaak, Trustee; Julie Warin, Trustee; and John Schell, Trustee
Park Blog