Supporting the local and nationwide communities of Visually Impaired Persons during the pandemic.
---
By Erin Chernisky, Library Volunteer Manager
---
Providing Clarity and Confidence
Throughout the pandemic, finding timely information about safety, best practices, resources, testing and vaccinations has been especially challenging for people with low vision, who often cannot see details to determine if sources are reliable.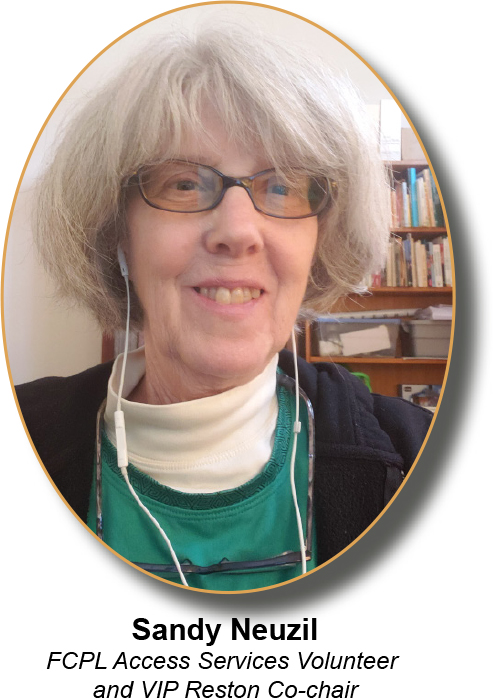 Thankfully, Sandy Neuzil — a longtime volunteer with FCPL's Access Services branch located in the Fairfax County Government Center — stepped up to help. In her capacity as the VIP (Visually Impaired Persons) Reston co-chair, Sandy worked with her team of fellow VIP volunteers to provide a lifeline to the low vision community not just in Fairfax County but across the country. Sandy lined up guest presenters, coordinated Zoom presentations, provided a forum for conversation, and regularly sent out links to the low vision community to enable them to stay informed and supported as they navigated the world amid the pandemic. 
Meeting Challenges With Cheer
As an individual with a disability, Sandy understands the unique challenges that presents and has become an expert in finding resources and connecting the community to them. She is tireless in her efforts and presents everything she finds in a cheerful, encouraging manner that engages people across a wide range of demographics.
The low vision community of Fairfax County would not be as well informed, buoyed and championed without Sandy and her team's continuous efforts. 
For more information about the programs, services and resources offered by the Access Services branch of Fairfax County Public Library, click here.