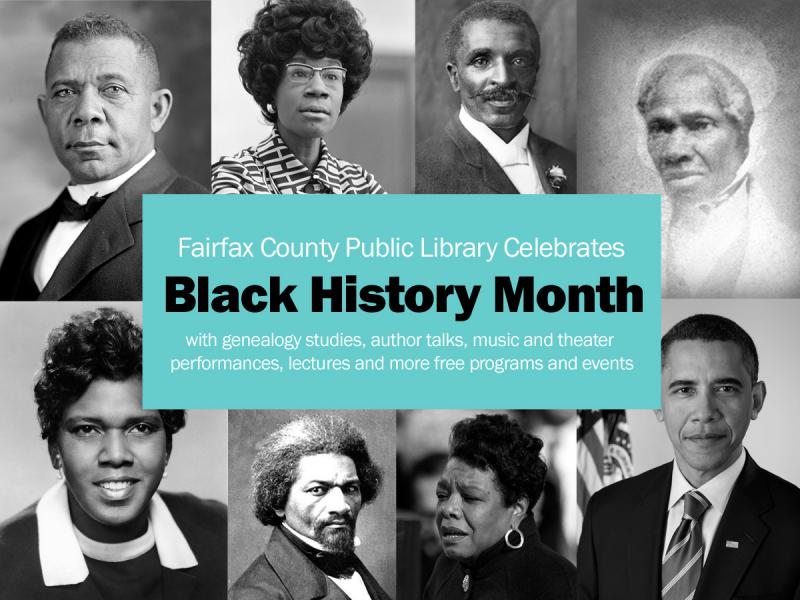 Honor and explore the pasts, presents and futures of African Americans with free library programs and events.
During Black History Month, which is celebrated in February, and beyond, Fairfax County Public Library branches are hosting free events and programs for all ages that highlight and explore the deep and diverse history and invaluable contributions and achievements of African Americans. From author talks and history lectures to movies, performances and more, a wide range of programs are taking place throughout the next few months. Plus, February's Outstanding Reads recommendations from our Collections staff focus on Black authors and stories — read them on FairfaxTimes.com. 
Check out the highlights of the schedule below. Asterisk (*) indicates registration required. For a full list of events, view the library's online calendar.
Consider the Census
As the 2020 census approaches, the library is focusing on the importance of census records not only to determining funding for our public institutions, but also to tracing family histories — including those of African Americans. Visit the library's Virginia Room, located in the City of Fairfax Regional Library, to discover historic photographs and census records of African American residents of the county.
The Virginia Room maintains a collection—including maps, an extensive photographic archive, local newspapers and yearbooks, manuscript collections and rare books—documenting the historical record of the people, associations, events and places of Fairfax County, Virginia. Researchers can also use print holdings and online databases to research genealogy from all 50 states.
Find booklists for African American family and cultural history in our genealogy research guide.
Join Us for Events All Month and Beyond