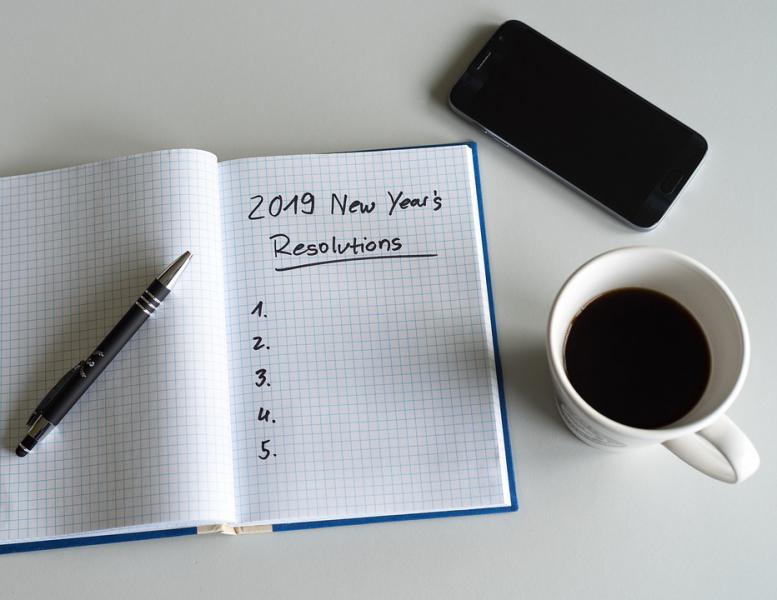 The new year motivates many of us to make positive changes, but sometimes our enthusiasm begins to flag before Groundhog Day arrives.  The Library can help you stay on track and achieve your goals.
Start with the books (unless you aren't a reader, then skip this part!):
First of all, and this is the worst kept secret ever, but we have the best books! Maybe you are a reader and have read the latest John Grisham, but have you also browsed our nonfiction aisles? No matter what your 2019 goals include, library staff can connect you with the best books to help you achieve them. Do you want to get started on your memoir this year, get rid of your debt, buy a home or perhaps something less traditional like learn to make soap, or build a deck or train your misbehaving dog? We have just the book to keep you on track, and if we don't, you can use interlibrary loan to find a library that does.
Not a reader? How about videos or recorded books?
If learning from a book isn't the best method for you, let us introduce you to our DVDs and audio books. An often-overlooked resource at the library are the Great Courses audios and DVDs, in which experts in a field teach everything from art and music to history and literature. Lynda.com provides online training for everything from computer programming to photography to banjo playing. It's a great way to learn (or improve) job skills.
Speaking of Lynda.com … that's just the tip of the iceberg.
Lynda.com is just one of the library's databaseswe have more than 100 databases for students, professionals, retirees and everyone in between. Find articles, data and more in biography, current events, health and wellness, finance and other topics. You can even learn a new language.
Is this the year you are going to find a new, better or just plain different job? Or pass a test for certification? We have in-depth resources to help you every step of the way from refreshing your resume and interview skills to practicing for exams.  The top two databases for job hunters are LearningExpress Library and Career Transitions. Stop by any library branch to get specific support for your dream career. Don't forget the books about job hunting and career exploration!
Last but not least: Library Events
If you prefer to learn in person, or maybe your goal is to meet new people, then attend a library event. Browse the library's calendar of events online or in print (hard copy available in branches) for programs of interest to you. There are opportunities each month to get better acquainted with technology, talk to others about books, discover a new a hobby, watch a movie, learn to play cards and more for all ages.
Library staff are standing by to help you maintain your 2019 resolutions. It's too early to give up!