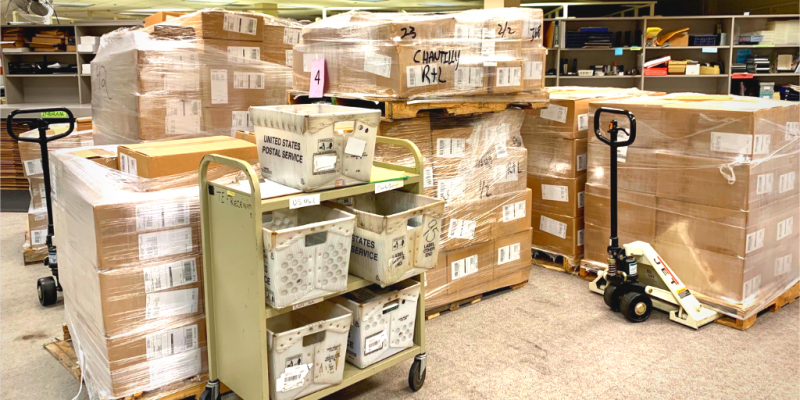 Amid the COVID-19 pandemic, many people have taken on tasks that aren't usually their responsibility — and the library is no different.
During Fairfax County's initial coronavirus response, FCPL's receiving department became the library's hub of logistics. Instead of processing books, this team received shipments of various disinfectant supplies, masks, face shields and more. They then ensured distribution to all branches.
While most county employees teleworked, FCPL's receiving team remained open at least one day a week to accept deliveries of new books. The library shifted its purchasing to digital titles in response to the governor's stay-at-home and safer-at-home orders, but printed materials ordered prior to March were still incoming.
FCPL re-opened to the public for Express Services on July 13, at which point the receiving team returned its focus to books just in time for a major rush. This year, the team's busiest month was August, since publishers had postponed the releases of many books from April, May and June to later in the summer.
During August, the FCPL receiving department accepted and confirmed more 23,000 items, representing about 2,400 titles. That meant opening and unpacking more than 800 boxes. During one four-day period, nine pallets of books and additional smaller shipments were received.
Now you know the behind-the-scenes work that has gone into making your library continue to function and your favorite titles remain available during this year's stay-at-home and safer-at-home routines. For more behind-the-scenes looks at how books become library books, check out the Collections Development story from the summer issue of Branch Out magazine, and stay tuned for the next installment coming in the winter issue for a closer look at the receiving process!