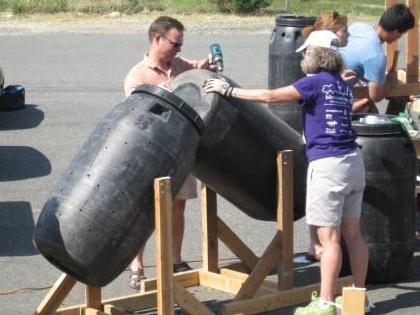 Participants will start this workshop with a pile of recycled lumber, a recycled pickle barrel, and assorted screws and bolts, but you will leave with a fully functioning tumbler style composter! We will take you through the construction steps and also give you some primers on proper composting technique. The finished composter will hold 55 gallons of organic material. All lumber will be pre-cut and all tools and materials will be provided. The cost of the workshop is $80 and registration is limited, although you may bring helpers to assist with the construction.
What would you say if I were to tell you that you can turn regular household kitchen and yard waste into...gold? Skeptical? You should be, but where the ancient alchemists failed, we have succeeded! We can teach you too to turn what was once considered rubbish into valuable, prized organic humus: the veritable black gold of gardener lore! And how do we accomplish this amazing transformation? By harnessing the power of millions of natural microbes and putting them to work inside tumbler style composters. 
Workshops are typically held annually. A small number of composter kits may be available for pickup from the Soil and Water Conservation District office or at the annual Native Seedling Sale. You can sign up to be notified when build-your-own tumbler composter workshops and distribution events/sales are made available by registering for our Composter Notification List. 
Many thanks to our composter workshop partners: City of Falls Church and ReBuild Warehouse.
For those who may have purchased a tumbler composter kit at our annual seedling sale, a PDF of instructions can be downloaded here.