The Fairfax County Park Authority (FCPA) Board approved two Mastenbrook Volunteer Matching Fund Grant applications totaling $39,995 to support improvements to Linway Terrace Park and Frying Pan Farm Park. The total estimated project cost for the improvements at both sites is approximately $1.24 million.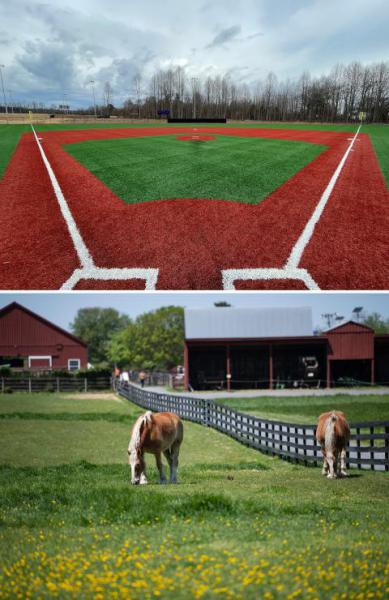 Linway Terrace Park ($20,000)
The McLean Little League has proposed replacing Linway Terrace Park's diamond baseball field with a synthetic turf field to provide an even and consistent playing surface that is more forgiving of wet conditions. The total cost of the project is estimated between $1.2 and $1.3 million. The project is to be fully funded by the McLean Little League except for the $20,000 in grant funding provided by the Fairfax County Park Authority. The project is anticipated for completion in fall 2025.
Frying Pan Farm Park ($19,995)
The Friends of Frying Pan Farm Park has proposed replacing sections of degraded fencing with 2,666 linear feet of new oak board fencing around several of the farm's pastures. The Friends of Frying Pan Farm Park will be contributing matching funds in the amount of $19,995 to complete the funding needed for the project. Project completion is anticipated for early 2024.
The Mastenbrook Volunteer Matching Fund Grant Program encourages public-private ventures that improve Fairfax County parks and park facilities. It is designed to fill a gap between limited bond funding and the community's desire for new or improved park facilities by assisting volunteer, community and user groups in improving park facilities by matching funds and in-kind services.
Since 1999, the program has awarded approximately $2.08 million in grants for projects valued at more than $15.8 million. Grants ranging from a few hundred dollars to the maximum of $20,000 have funded such projects as trail improvements, construction of gazebos and shelters, and athletic field improvements.
For more information or to apply for a matching grant, visit the Mastenbrook Grants website or call 703-324-8470. Applications can be found at http://bit.ly/mastenbrook.