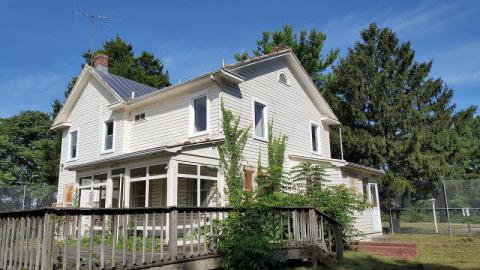 May is Historic Preservation Month and there are many events in Fairfax County to bring awareness to historic places and heritage preservation. Curators with the Park Authority's Resident Curator Program will host two open house events to share the home improvements made to two of Lorton's historic houses. Enjoy a tour of the Stempson House and the Hannah P. Clark/Enyedi House on Saturday, May 20, from 10 a.m. to 1 p.m.
The Stempson House (circa 1932), located at 9501 Furnace Road in Lorton, is a vernacular farm-style residence with Colonial Revival style elements. The home is significant due to its association with the Occoquan Workhouse and Reformatory, later known as Lorton Prison. The Lorton Prison is noteworthy for Progressive era reform ideals and for its association with the Women's Suffrage movement of the early 1900s. This house is listed as a contributing structure to the D.C. Workhouse and Reformatory Historic District on the National Register of Historic Places.
The period of significance for the Hannah P. Clark/Enyedi House, located at 10605 Furnace Road in Lorton, is 1876 to 1925. During that timeframe, Hannah Potter Clark constructed, expanded, moved and resided in the house. Due to the early 20th century expansions and improvements to the Richmond, Fredericksburg and Potomac Railroad, Hannah P. Clark was forced to move her house across the road to where it stands today. In 1986, Janos (Jonathan) and Diana Enyedi purchased the property.
House tours are limited to eight people at a time and will be provided on the half-hour. Limited on-site parking will be available.
The Resident Curator Program provides a unique opportunity for individuals, nonprofit and for-profit organizations to secure long-term lease agreements for historic properties in beautiful public park settings. The curator leases are without charge in exchange for a financial commitment toward approved rehabilitation of the Park Authority's underutilized historic properties. The program requires reasonable public access to these historic resources, which often occurs in the form of these annual open house events.
For additional information, visit the Resident Curator Program website. You may also contact the manager of the Resident Curator Program Stephanie Langton at 703-324-8791.