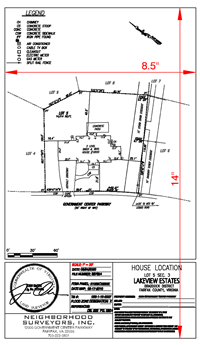 House location plats show the location of structures on an individual property. Submit a house location plat during the building permit application process for projects disturbing less than 2,500 square feet of land.
House location PLATS must:
Be clear and legible.
Show the entire parcel, and show all property line bearings and distances.
Be drawn to a designated scale no larger than 1" equals 50'.
Show existing and proposed structures properly identified, accurately located and dimensioned and drawn to the designated scale.
Be signed and sealed by a licensed professional in accordance with Virginia Administrative Code 18VAC10-20-380. 
See Technical Bulletin 18-02 for more detailed information on House Location Plat Surveys.