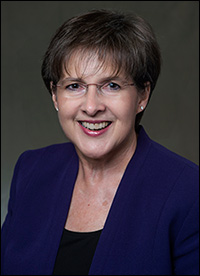 Kathy Smith was re-elected Sully District Supervisor of the Fairfax County Board of Supervisors on November 5, 2019. She has served on the Board since January 2016. Her term is for four years. The Board of Supervisors establishes county policy, passes resolutions and ordinances (within the limits of its authority established by the Virginia General Assembly), approves the budget, sets local tax rates, approves land use plans, and makes appointments to various positions. Kathy is the Chairman of the Board's Development Process Committee.
Prior to serving on the Board of Supervisors, Kathy served as the Sully District Representative to the Fairfax County School Board for 14 years. While she was on the School Board she was elected Chairman three times.
Originally from New Jersey, Kathy has lived in the Sully District with her husband, Steve, since 1984. They have four children who all attended Fairfax County Public Schools. Kathy spent many years active in her children's youth sports leagues, and served as PTA President at all three schools attended by her children: Poplar Tree Elementary School, Rocky Run Middle School, and Chantilly High School.
Kathy was a teacher for seven years, teaching first grade in New Jersey and second grade at an International School in Saudi Arabia. She graduated from Muhlenberg College with a Bachelor's degree in Sociology and Elementary Education.
Supervisor Smith serves on the following committees:
Board of Supervisors Standing Committees

Land Use Policy Committee (Chairman)
Transportation Committee (Vice-Chairman)
50+ Committee
Budget Policy Committee (2nd Vice-Chairman)
Community Revitalization and Reinvestment Committee
Economic Advisory Commission
Public Safety Committee
Personnel and Reorganization Committee
Legislative Committee
 Information Technology Committee
Environmental Committee
Health, Housing and Human Services Committee

Virginia Association of Counties (VACo)

Board of Directors
Education Committee (Vice-Chairman)

Northern Virginia Regional Commission (NVRC)

Executive Committee (Treasurer)

Phase II Dulles Rail Transportation Improvement District Commission
Route 28 Highway Transportation Improvement District Commission
Interjurisdictional Committees:

Loudoun County (Chairman)
Prince William County (Chairman)