Running bamboo is a fast-growing, invasive grass with a complex, horizontal root system called rhizomes that aggressively spread underground, as much as 15 feet per year. 
Once planted, running bamboo can eventually take over yards and travel across property lines, creating issues for adjacent property owners and local jurisdictions.
The new ordinance requires property owners to contain running bamboo on their property and prevent it from spreading beyond their property line. Property owners may incur penalties if they allow bamboo to spread beyond their property.
Help Spread the Word
Have a community or homeowner association meeting coming up? Here are resources in multiple languages to share: 
Avoid the Fine Flyer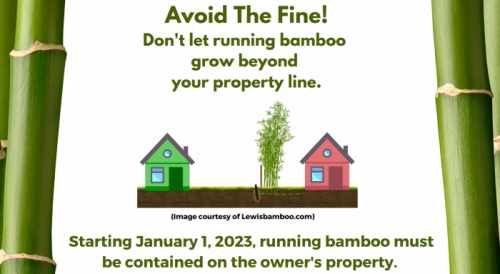 Available in:
Information Sheet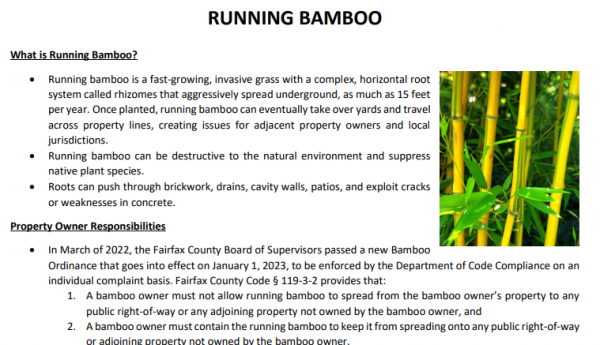 Available in:
Code Compliance Enforcement Begins Jan. 1, 2023
The county's Department of Code Compliance will enforce the new ordinance beginning January 1, 2023.
If you have questions not answered here, reach out to Code Compliance for help.
Invasive Plant Species
Running bamboo can be destructive to the natural environment and suppress native plant species. Roots can push through brickwork, drains, cavity walls, patios, and exploit cracks or weaknesses in concrete.
Learn more about what property owners can do to help stop invasive species.