For Immediate Release
Dec. 10, 2019
#T40_19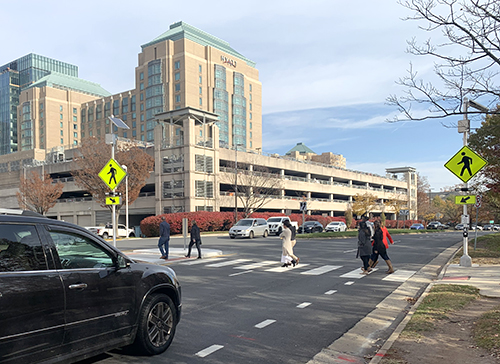 To enhance pedestrian and bicycle safety, Fairfax County is working with the Virginia Department of Transportation to install nine new Rectangular Rapid Flashing Beacons (RRFBs) at targeted crosswalks around the County. The flashing yellow lights, when activated, indicate to drivers and bicyclists using the roadway to yield to those in the crosswalk before proceeding. RRFBs are a warning device for drivers. Pedestrians still need to watch for approaching traffic even if the RRFB is activated.
The new beacons are a result of a $1,263,000 grant through VDOT's Pedestrian Safety Action Plan and funded by the the Federal Highway Authority's Highway Safety Improvement Program (HSIP). The grant also includes other pedestrian safety improvements including refuge islands and a signalized crosswalk.
"With more folks walking and bicycling and more driver distractions, pedestrian and bicycle safety in Fairfax County is a greater priority than ever," said Fairfax County Department of Transportation Active Transportation Program Manager Chris Wells. "When applied in the right context, Rectangular Rapid Flashing Beacons are an excellent tool to draw attention to people crossing the street and encourage drivers to yield."
 
RRFBs in Fairfax County
The grant-funded RRFBs are located at:
| Location | District |
| --- | --- |
| Frye Road, north of Route 1 | Mount Vernon/Lee |
| South Lakes and Tanbark (East) | Hunter Mill |
| Bluemont Way and Discovery Drive* (pictured) | Hunter Mill |
| Franklin Farm Road and Old Dairy Road | Sully |
| Franklin Farm Road and Thorngate Drive | Sully |
| Soapstone and Ridge Heights Road | Hunter Mill |
| Soapstone and KinderCare/7-11 | Hunter Mill |
| South Lakes and Green Watch Way | Hunter Mill |
| Prosperity Avenue and Cross County Trail | Providence |
These beacons join half a dozen beacons already activated in Sully, Mason, Providence, Dranesville and Hunter Mill Districts.
 
For more information on the Rectangular Rapid Flashing Beacon program, visit: https://www.fairfaxcounty.gov/transportation/bike-walk/rrfb.
###