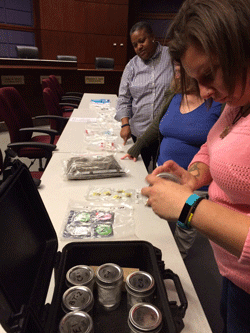 On a cold Monday morning, October 16, 28-year old Susan* bravely shared with a room full of local officials and community members her dark and chilling personal experiences with addiction. She described a tough upbringing that included heavy emotional abuse. "Before I was 21 years old, I was a human trashcan," Susan told the hushed audience.
"I did every drug you can think of; replacing one drug for another. From the age of 13, I was addicted. I started with alcohol and cigarettes; quickly moving on to marijuana, cocaine, PCP, heroin," she recounted. "My mother was the 'fun mom' and we used together. At the time, I thought she was the coolest. We partied hard."
Despite multiple stints in jail and rehab, poor health, knots in her arms and dramatic weight loss (down to 80 pounds), it wasn't until she was homeless that Susan finally decided that she was done with drugs "for good."
Susan says she helped find her path to recovery through the help of people who cared enough to take the time to listen to her and who understood her struggles and how hard it was. "My probation officer, CSB staff with A New Beginning and Crossroads, and so many others helped saved my life; and eventually my mother's life too."
Sadly, hard stories like Susan's are not uncommon in Fairfax County. In an effort to bring together people who are on the front lines of the opioid crisis, staff members from Virginia's Probation and Parole District 29 and from the Fairfax-Falls Church Community Services Board (CSB) hosted a daylong collaborative entitled, "A Balanced System Approach: Opioid Treatment and Law Enforcement," that brought together subject matter experts, program panelists, and about 200 people who wanted to learn more about roles, resources, and "new frontiers" in public health and safety regarding the ongoing national opioid crisis.
Plenary speaker, Faye Taxman, Ph.D., Director of the Center for Advancing Correctional Excellence at George Mason University, offered broad and sweeping challenges involving mental health, substance use disorder, and the criminal justice system. Dr. Taxman addressed system of care models that link criminal justice issues and changes involving probation and parole. She highlighted several challenges and barriers, shared potential solutions and successful collaboratives, and highlighted positive results of programs around the nation, such as the ANGEL Program in Gloucester, Massachusetts, that involves volunteers in helping usher people into recovery and treatment.
A panel of experts shared viewpoints from their discipline's perspectives. Panelists from CSB included: Wanda Orr, Nursing Supervisor, Fairfax Detoxification Center; Lauren Krause Nickum, Behavioral Health Supervisor, REVIVE instructor and Substance Outreach Monitoring and Engagement (SOME) program; Nhat Nguyen, Clinical Supervisor, Adult Men's Day Treatment; and Chela Clark, Behavioral Health Supervisor, Residential Admissions Unit. Also participating on the panel was Cindy Estrella, Bilingual Probation Officer, Probation and Parole, District #29.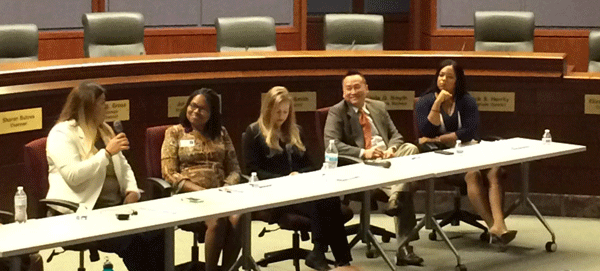 Highlights included:
Cindy Estrella: "We're in the business of helping people be better; we look at buy-in, motivation, and work with tools to promote positive behavior change to help people identify goals, plans and tasks."
Wanda Orr: "When people come into detox, we have a captive audience and we seize the opportunity to share information and to educate – what drugs do to the body and the brain – programs and people that can help people recover, as well as listen to the person's needs and wants. We're trying to hear and determine, between the lines, if they're ready to begin the path to recovery."
Lauren Krause Nickum: "Our SOME program staff visit shelters, drop-in centers and people leaving jail to make sure that all are aware of the resources that can help them in the community. We make sure they know that our programs are open to them; we don't want to lose contact." Regarding REVIVE opioid overdose reversal training: "Our goal is to equip people throughout our community with the skills and tools they need to fight back against opioid overdoses; we hope everyone will sign up for a class."
The forum continued with an overview of current drugs and trends from two detectives from the Fairfax County Police Department Office of Narcotics. Officers took questions from the audience and shared thoughtful, in-depth responses. One detective described some of the tragedies he has witnessed over the past four years, at the scene of overdoses, or at the bedside of patients. He said he has tried hard to understand the mindset of users. "These years and these experiences have changed me," he said simply.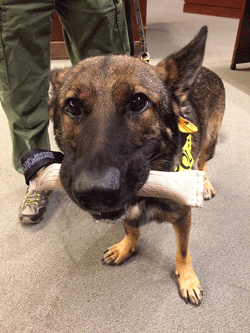 The day concluded with a demonstration of dogs as important tools in narcotics cases. "Wally," FCPD's drug K-9, raced through the audience to find a stash of heroin that a detective had hidden in a seat. It didn't take long for Wally to alert on the spot; he was rewarded with a toy and applause from the audience.
Anyone in our community who wants to learn more about opioids, heroin, and other drugs, and what we can do to help stem the epidemic, is urged to attend an upcoming public roundtable this Saturday, October 21, 2017, at the Fairfax County Government Center at 2 p.m.
The Opioid Panel Discussion and Roundtable is hosted by U.S. Congressman Gerry Connolly and Fairfax County Board of Supervisors Chairman Sharon Bulova. Expert guest panelists include:
Dr. William A. Hazel, Jr., Virginia Secretary of Health and Human Resources
Dr. Gloria Addo-Ayensu, Fairfax County Health Department Director
Ms. Lyn Tomlinson, Fairfax-Falls Church Community Services Board Assistant Deputy Director
Dr. Husam Alathari, CATS Program Medical Director at Inova
Major Amanda Lambert, Prince William-Manassas Regional Adult Detention Center
A local resident whose life has been impacted by addiction
Contact Sharon Stark at Congressman Connolly's Office at 703-256-3071 with questions or more information.
*A pseudonym, rather than a real first name, was used to protect the privacy of the individual who addressed the audience at the October 16 event.
---
Know someone who needs help with a drug problem?
If the situation is immediately life-threatening, call 911. Our Fire and Rescue personnel carry medication that can prevent deaths from opioid overdose.
If it's after business hours, call CSB Emergency Services at

703-573-5679

; available 24/7, every day of the year, including weekends and holidays.
If you or someone you love needs help to overcome drug dependence, call us during business hours at

703-383-8500

. Our staff can help you find appropriate treatment and recovery resources. Youth and adults can also come in person, without prior appointment, to Entry & Referral Services at the CSB's Merrifield Center Monday through Friday, 9 a.m. to 5 p.m. to be screened for services. Youth walk-in evaluations are offered during these times and also until 7 p.m. on Tuesdays. [Learn what happens during an assessment.]