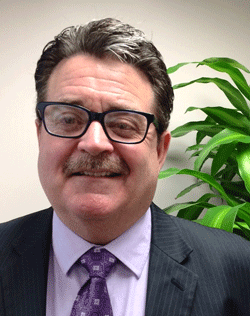 Mark Blackwell has been appointed the new Director of Consumer and Family Affairs for the Fairfax-Falls Church Community Services Board, which provides services to more than 22,000 people a year for mental health and substance use challenges, and developmental delays and disabilities. His primary office will be at the CSB's Merrifield Center in Fairfax. As a member of CSB's leadership team, Mr. Blackwell represents the interests of individuals and families who receive CSB services and plays a major role in human rights interactions. He is also responsible for strengthening CSB's provision of recovery services through partnerships with peer run organizations.

"I am a person in recovery," says Blackwell, who has had the opportunity to develop recovery-oriented services in communities throughout Virginia. "The Fairfax-Falls Church Community is unique," he says, "because of the breadth and depth of resources available."
Blackwell holds a master's degree in health services administration and an undergraduate degree in public administration. He is highly regarded trainer of peer recovery specialists throughout the Commonwealth of Virginia and is himself a certified peer recovery specialist. Before joining the Fairfax-Falls Church CSB, Blackwell served as a program specialist in the Office of Recovery Services of the Virginia Department of Behavioral Health and Developmental Services in Richmond. He has also held executive leadership positions at Richmond Recovery Resources, Substance Abuse and Addiction Recovery Alliance of Virginia (SAARA), and the Rappahannock Council Against Sexual Assault and has worked in multiple healthcare and behavioral health settings in marketing, contract administration and managed care direction.
"I believe that increasing the use of Peer Recovery Specialists – trained individuals with lived experience with mental health or substance use issues – can improve outcomes and help move individuals through their recovery journey," he explains. When asked why he decided to come to Fairfax, Blackwell says one factor was the CSB's vision that 'everyone in the community has the support needed to live a healthy, fulfilling life.'
"Who wouldn't want to be a part of that!" he added with a smile.