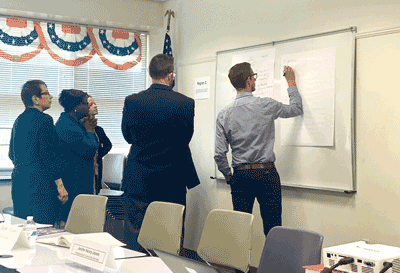 Community organizers, police officers, social workers, therapists, and school and medical personnel gathered at the Thomas Jefferson Library on April 10 in the first effort to mobilize a new community anti-drug coalition. The coalition effort, led by the Fairfax-Falls Church Community Services Board (CSB) will create and coordinate strategies that encourage a drug-free community. The coalition is one of the strategies funded by the Fairfax County Board of Supervisors-led Opioid Task Force.
The Fairfax County Opioid Task Force Plan reveals that the rate of overdose visits to Emergency Departments were highest among those age 15-24. When broken down further, school age children made up 22% of overdoses (between 2015-2017), including opioids.
Cassandra Robledo from the Community Anti-Drug Coalitions of America (CADCA), an organization that helps guide similar initiatives across the country, is providing support to the new group. "Together, we will come up with a shared mission and vision for the new coalition," she said. "The purpose of this group is to create better, healthier communities, and it's exciting to be part of this community-led effort." CADCA is present in thirty countries in addition to the United States.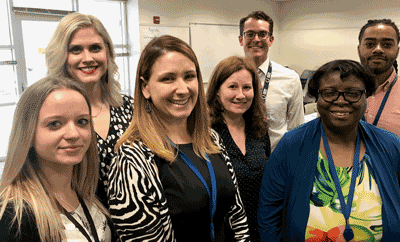 Attendees discussed a variety of issues during their first meeting, including: vaping, opioid use, access to treatment, trauma, environmental-based strategies, disease and overdose prevention, stigma and education. Marla Zometsky, manager of CSB's Wellness, Health Promotion & Prevention programs, shared, "We will look at what our communities are doing well; we'll begin with a framework, based on real data and look at how to build and sustain a drug prevention coalition. There are pockets throughout the county that are already doing a great job of addressing these issues, we want to build on that."
Underage drinking, tobacco use, illicit drugs and abuse of medicines have an impact on Fairfax County youth. "Substance abuse is a complex issue that requires efforts from all sectors our community, said Zometsky. "We will be encouraging parents, youth, health professionals, the faith community and business leaders to join us to help inform and protect young people. Everyone can – and needs to be – part of the solution."
For more information contact Coalition Coordinator Lori Naveda, CSB, at 703-538-7476.
Find the next meeting on our CSB Events page.
Currently, there are other ways to be involved in substance use and underage prevention programs in Fairfax County: