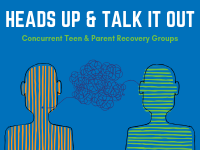 Know a young person in the midst of a struggle? Help teens develop strategies and tools to manage stress and weather life's tough moments. The Fairfax-Falls Church Community Services Board (CSB) hosts an open weekly "drop in" group called "Heads Up" where teens can meet with other young people, in a facilitated discussion group, learn how to collaborate, listen and learn from peers. 
The weekly chat group started in February and has been growing steadily. No registration is necessary and there is no cost for the program.
The discussions center around the eight dimensions of wellness: emotional, environmental, financial, intellectual, occupational, physical, social, and spiritual. 
Last week, a psychiatrist who works in CSB's Emergency Services, who has a background in ADHD research, engaged the group in a lively, interactive discussion that was clear, focused and entertaining. 
This week, on Thursday, August 15, a representative from Fairfax County Juvenile and Domestic Relations District Court is scheduled to attend.
Previous group discussions have addressed topics such as: depression, substance (drug) use, anxiety, sexual identity, and harmful/negative thinking. 
Concurrently with the youth group, there is a parent group, "Talk It Out" that meets in a separate room. Parents share thoughts, support, and encouragement with each other and CSB therapists help with group facilitation.
Both groups meet weekly on Thursdays from 6 to 7:30 p.m. at the Merrifield Center, 8221 Willow Oaks Corporate Drive, Fairfax, 22031. "Heads Up" meets in Room 3-332 and "Talk It Out" meets in Room 3-207-B.
Questions? Contact Birgit Snellenburg or LaVurne Williams or call 703-219-2560.