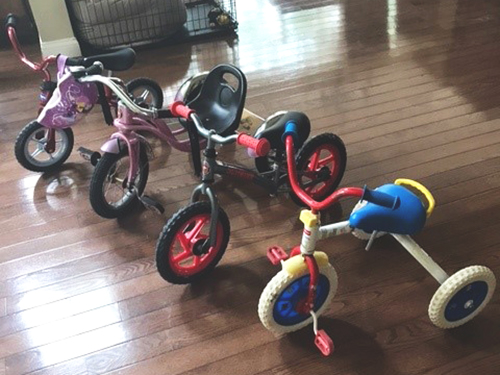 What is The Foster Closet, you ask? The Closet is a necessities supply exchange, with a location in Fairfax near Fair Oaks Mall that provides gear, clothing and toys to kinship families and foster parents when they receive a placement. It has helped many families get a head start on providing kids with all they need to adjust in their new homes. Many children come into care, sometimes late at night, with only the clothes on their backs. Within hours, the closet can get these families a few of the necessities to make that transition smoother.
The Foster Closet has lots of free things to help your family get ready for school! We offer new and gently used clothing, toys and equipment free of charge to children who are in care with foster and kinship families. Let us help you with the logistics so you can enjoy time with them. Come get one of these beautiful bikes and trikes free for 3-5-year-olds. We also have exersaucers and playmats galore. Toys, books, school clothes and so much more! Contact Cynthia Kyser at 703-200-8722 for more information.
---
This article posting is part of the Foster Family News monthly newsletter designed to keep foster parents informed about all the new and notable happenings in Fairfax County.
Learn about what the Foster Care and Adoption program has planned for foster families - stay on top of trends, participate in trainings and learn about policy changes.