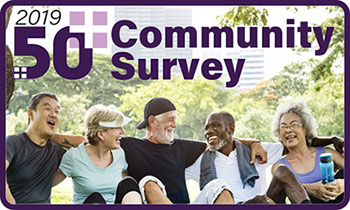 In February, thousands of adults — 50 and over — will find yellow post cards in their mailboxes inviting them to participate in
Fairfax County's first 50+ Community Survey
for Fairfax County and the Cities of Fairfax and Falls Church.
The survey is part of a county-wide initiative to create a more aging-friendly community. Survey recipients will be randomly selected throughout Fairfax County and the Cities of Falls Church and Fairfax.
More than 25 percent of Fairfax County residents are 50 and over, and we can expect to see that number dramatically increase in the coming years, said Bryan Hill, Fairfax County Executive. We want to learn more about the experience of aging in Fairfax County so that we can better meet the needs of our 50+ community.
The local governments conducting the survey hope to learn more about the local lifestyles of individuals among the 50+ community including opportunities to work, socialize and volunteer; issues facing these adults such as retirement, housing and caregiving; and their usage of community services like public transportation and Senior Centers.
The survey is a unique opportunity for us to make our voices heard in a powerful way, said Carolyn Sutterfield, chairman of the Fairfax Area Commission on Aging. The Commission, the citizens advisory council for the Fairfax Area Agency on Aging, oversees and promotes the five-year Fairfax 50+ Community Action Plan adopted by the Board of Supervisors in 2014.
Sutterfield strongly encourages those who receive the survey to take the time to complete it, whether online or by mail. The 20 minutes you spend on this have the potential to improve the quality of life for older adults in the Fairfax community for years to come, she said, noting that the survey results will play an important role in planning the next 50+ Community Action Plan. The county has contracted with the National Research Center to conduct the survey. All responses are anonymous.
Survey Timeline
Week of February 4, 2019: 22,000 randomly selected adults — 50 and over — will receive a yellow post card in the mail indicating that they have been randomly selected to participate in the survey.
Week of February 11, 2019: Selected respondents will receive their survey materials to be completed online or in writing and returned.
Spring 2019: Staff will review and analyze survey results and post the findings online along with next steps in the process.
Didn't Receive a Survey? Not To Worry!
Follow Our Progress!
You can follow the county's progress on this survey initiative and find additional ways to share comments and suggestions on aging on the survey website.
Questions?
Call us at 703-324-4444OSMDataAnalyticsosm@fairfaxcounty.gov.
, TTY 711 or submit your questions by email to