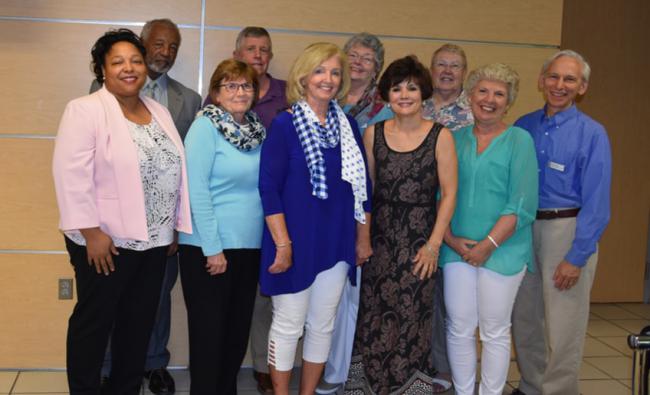 We work for you!
We are 12 volunteers appointed by elected officials of Fairfax County, Falls Church and the City of Fairfax. 
We advocate for the needs of older adults and tap their potential to enrich the community.
The federal Older Americans Act mandates that local area agencies on aging have community advisory committees. The Fairfax Area Commission on Aging is the Fairfax Area Agency on Aging's community advisory committee. It advises the agency on developing and coordinating community services, policies, programs and actions affecting older adults in the Fairfax area.
Get Involved
As your representatives, we need to hear from you. We hope you will consider the following:
Join us at a monthly meeting to share your ideas and concerns. Each meeting begins with a public comment period. Meetings are from 1-3 p.m. on the third Wednesday every month, except August. Find Fairfax Area Commission on Aging meeting locations.

Invite us to speak to your group or faith community. We can discuss our accomplishments, the challenges lying ahead, and the importance of advocacy in preserving quality community services. Email us.

Share your concerns and ideas with us by email.
Current Activities
The Fairfax 50+ Community Action Plan was adopted by the Fairfax County Board of Supervisors in 2014 and the Commission is now working to oversee the plan's implementation. The plan's goal is to make Fairfax County a more aging-friendly community.

 
Ongoing Activities
We represent the Fairfax area on the Northern Virginia Aging Network, an advocacy group that each year develops a state legislative platform on aging issues and advocates for its adoption by the state legislature. 
We also testify before the Fairfax County Board of Supervisors on policy and budgetary issues affecting older adults. 
Fairfax Area Commission on Aging Members
Our Goals
Older adults will be self-sufficient and will avoid premature dependence.
Older adults will have meaningful activities including volunteer opportunities that allow them to engage with their community.
Older adults will have effective support systems - especially those who are vulnerable, socially or culturally isolated, who have a disability or who need protection from abuse, neglect, or exploitation.
Older adults will be aware of community services. 
Minutes
2017 Commission on Aging Meeting Minutes
Connections
Subscribe to . . .

Check out . . .
Facebook - Volunteer Solutions