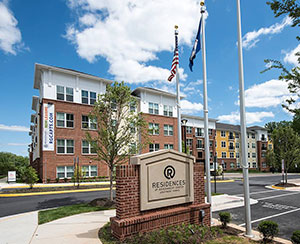 The Residences at Government Center, a 270-unit workforce housing community located on the Fairfax County Government Center campus, is receiving national recognition. The National Council for Public-Private Partnerships (NCPPP) has selected the community for the 2017 Outstanding Project Innovation Award. This award highlights public and private sector organizations that have collaborated and implemented a unique innovative project in public-private partnerships.

"Fairfax County is honored to receive national recognition for our newest workforce housing community," said Board of Supervisors Chairman Sharon Bulova. "We will continue to pursue public-private partnerships to provide essential services, like workforce housing, to our residents and county employees. This community will serve as a model for innovative partnerships going forward."
"The Residences at Government Center is a physical representation of the synergy created when public resources – in this case, government land – are invested in the creative capacity of the private sector," notes Supervisor John Cook. "We are proud to have such an innovative community in the Braddock District."

Situated on just over eight wooded acres facing Monument Drive, the Residences at Government Center offers 270 affordable apartments for Fairfax County's public and private sector workforce. It is a unique public-private partnership between the county, the Fairfax County Redevelopment and Housing Authority (FCRHA), SCG Development, and Jefferson Apartment Group. By leveraging county land, the community was built at no cost to the local taxpayer. It is the first in the Commonwealth of Virginia to employ a hybrid financial structure utilizing both 9 percent and 4 percent Low- Income Housing Tax Credits to fund its development.
"This innovative project highlights the unique and critical role the FCRHA plays as the county's affordable housing finance agency," said FCRHA Chairman Robert Schwaninger. "Our ability to understand the local needs and issue the $13 million in bonds were an essential part of the partnership that made Residences at Government Center happen."

"Jefferson Apartment is proud to be a partner in this transformative project in the heart of Fairfax County, Virginia," notes Greg Lamb, Executive Vice President and Managing Partner at Jefferson Apartment Group. "The hard work and dedication of county staff, public officials, the U.S Department of Housing and Urban Development (HUD), the Virginia Housing Development Authority (VHDA), and our partner Stratford Capital inspired us all to make this project a reality."
"We are extremely pleased with the collective effort, cooperation and creativity that made this development successful," said Stephen Wilson, President and Principal at SCG Development. "I think that this transaction typifies the importance and power of public-private partnerships and the role that they can play in the creation of affordable and workforce housing."

Residences at Government Center serves households earning between 50 and 60 percent of the area median income (AMI) for the Washington DC Metropolitan Area – as set by HUD. Rents range from just above the mid- $800s for an efficiency to just under $1500 for a three bedroom. The four-story development was designed to fit into the fabric of the neighborhood, respecting the surrounding environment and unique needs of the community. Features include garage parking, a fitness center and outdoor pool, a conference room, outdoor courtyards, a play area, and a community room. Green features include low volatile organic compounds (VOC) paints, Energy Star appliances, and high-efficiency water heaters.

The 2017 Outstanding Project Innovation Award will be presented at P3 Connect, the NCPPP's annual conference in October 12-13 in Miami Beach, Fl. The National Public-Private Partnership Awards recognize organizations and individuals going above and beyond to advance the concept and implementation of public-private partnerships across the country.

About NCPPP
The National Council for Public-Private Partnerships (NCPP) is a non-profit, non-partisan organization that advocates and facilitates the formation of public-private partnerships at the federal, state and local levels and raises the awareness of governments and businesses of the means by which their cooperation can cost effectively provide the public with quality goods, services and facilities.

About Us:
Fairfax County Department of Housing and Community Development is a local governmental agency within Fairfax County that administers affordable housing and community revitalization programs. In addition to its role as a department of county government, HCD serves as the staff for the Fairfax County Redevelopment and Housing Authority (FCRHA).

The FCRHA is a political subdivision of the Commonwealth of Virginia whose mission is to initiate and provide opportunities for Fairfax County residents to live in safe, affordable housing and to help develop, preserve, and revitalize communities.

SCG Development is a privately held, integrated real estate development firm focused on creating quality, affordable homes for extraordinary communities, with offices in Vienna, Virginia and Peabody, Massachusetts.

Jefferson Apartment Group is a Mclean, Virginia based full service real estate firm specializing in multifamily and mixed use real estate investments through its acquisition, development, construction and property management services.

For more information on the Residences at Government Center, please visit http://www.residencesgovernmentcenter.com/.

For more information on the National Public-Private Partnership Council P3 Connect Conference, visit: http://www.p3connect17.org/.