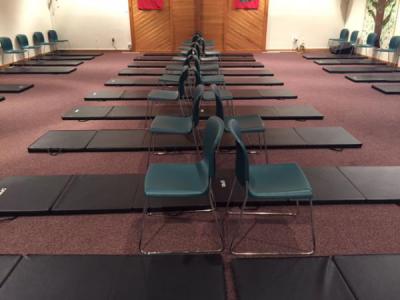 The Fairfax County Board of Supervisors approved an emergency ordinance authorizing the establishment of several county-operated temporary hypothermia prevention shelters to serve individuals experiencing homelessness during the harsh winter months ahead. The measure ensures the necessary resources are in place to provide a safe, warm location for the County's most vulnerable residents to seek shelter from the cold between December 2020 and March 2021.
In years past Fairfax County has partnered with dozens of houses of worship and other nonprofits to provide overnight accommodations where individuals experiencing homelessness could sleep soundly, enjoy a healthy meal and receive other assistance. With the onset of COVID-19, and the associated precautions that have been put in place, many houses of worship are either closed or operating at a limited capacity creating fewer options to serve the nearly 1,200 individuals who receive shelter assistance every year during the winter months through the program.
"The County's Hypothermia Prevention Program provides a critical, life-saving service for our county's most vulnerable residents," said Tom Barnett, Deputy Director for the Department of Housing and Community Development's Office to Prevent and End Homelessness. "Last year, through an outstanding community partnership effort, we were able to provide 49 sites to serve an average of 215 guests each night who had no place else to go. Through this action, we can begin planning contingencies to ensure that everyone who needs a warm place to stay and access to supportive services can find it."
The board action identified seven Fairfax County-owned locations which can be configured to provide emergency sheltering capacity for the Hypothermia Prevention Program, including:
Lincolnia Senior Center
Braddock Glen Wellness Center
Gerry Hyland Government Center
North County Human Services Building
Fairfax County Government Center
Herrity Building
Pennino Building
Many of these locations are currently closed to the public and/or are operating at a diminished occupancy and have the accommodations to facilitate a safe, warm location where individuals who are homeless can stay overnight.
"It cannot be understated how critical this program is, and has been over the years, for thousands in our community who otherwise would have had no defense against the icy grip of winter," said Fairfax County Chairman Jeffrey McKay. "COVID-19 has dealt us all a challenging hand, and this measure is just another example of how we are continuing to use outside-of-the-box thinking and planning to ensure that we can still come through on behalf of those who need our help the most in our community."
A public hearing is being planned for mid-November 2020 to receive public comment on this measure. Additional information regarding this public hearing will be posted as the details are finalized. For more information about public hearings and how to contribute comments, please visit https://www.fairfaxcounty.gov/bosclerk/.