The Virginia Housing Development Authority (VHDA) has awarded $800,000 in REACH Virginia (Resources Enabling Affordable Community Housing in Virginia) grant funding to a 126-unit housing development located a stone's throw from Huntington Metro – the Arden.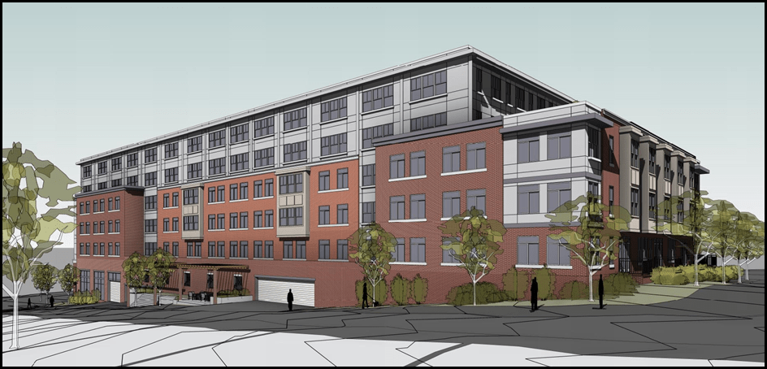 About the Project
The Arden – a project of Wesley Housing Development Corporation – is designed to be a two-building development with 126 units of housing and a small retail and office space. The mixed-use community will consist of studio, one, two and three-bedroom units to include eight accessible units for disabled residents.
Of the 126 units, 85 will be targeted for households earning 60% of the Area Median Income (AMI); 32 units for households at 50% AMI; and 8 units for households at 40% AMI.  Additionally, a portion of the units will be marketed towards the elderly, formerly homeless individuals, and individuals with mental and/or physical disabilities.
 
About the Funding
REACH Virginia is a multifaceted resource that VHDA uses to support vital housing initiatives through their Homeownership, Rental and Community Outreach programs, including:
Affordable housing for lower-income households, the homeless and residents of high growth and/or high cost regions
Accessible housing for seniors and people with disabilities
Revitalization of older urban areas and preservation of small towns
As part of their move to the Northern Virginia area, Amazon agreed to a 5-year commitment of $15 million annually in new REACH funding for affordable housing in the region to support the development of the company's second headquarters. This $800,000 is part of a Year 1 Funding package focused on lower-income rental housing in Arlington, Alexandria and Fairfax. 
In addition to receiving REACH Virginia funds, the Fairfax County Redevelopment and Housing Authority will provide $7.4 million in deferred loans and developer Wesley Housing will also be applying for Low-Income Housing Tax Credits administered by the VHDA and other sources.
Closing on this project is currently pending.