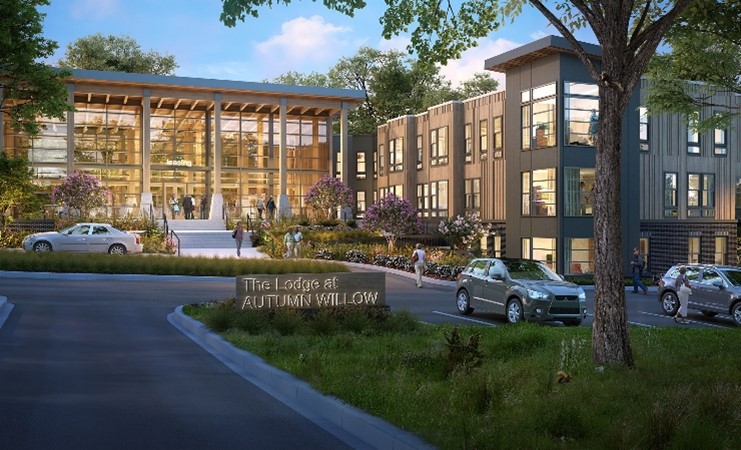 On Tuesday, February 23, the Fairfax County Board of Supervisors took two key actions to further the work on the development of 150 units of affordable senior housing. The Board approved a $4.45 million Housing Blueprint loan and a special exception to allow for the development of The Lodge at Autumn Willow in the Springfield District.
"The development of senior housing in Fairfax County is a critical piece of providing opportunities for our older residents – particularly those with limited retirement incomes - to be able to live in Fairfax County," said Springfield Supervisor Pat Herrity, who chairs the Board's Older Adults Committee. "It is important that we provide opportunities for our longtime residents that do not have other options for housing to have a place to live in our county."
In July 2020, the Fairfax County Redevelopment and Housing Authority selected Michaels Development to develop, own and operate an independent living community on undeveloped 10.8-acre site owned by the FCRHA. Under the terms of a 99-year ground lease, apartments will be priced affordable to residents earning between 30 percent and 60 percent of the Area Median Income.
"Our approach with the Autumn Willow property is another outstanding example of our utilizing public lands to provide long-term affordable housing options – particularly for our older residents, individuals with disabilities and extremely low-income households," said Melissa McKenna, Chair of the Fairfax County Redevelopment and Housing Authority. "By bringing such an asset to the table, we help drive down the cost of development and ensure the perpetual affordability of beautiful homes with access to so many of the supportive and connective programs, services, and amenities Fairfax County offers."
The community will include a two-story building with surface parking located in a unique natural wooded setting surrounded by a public park, pedestrian trails and the Little Rocky Run streambed. Benefits of the development will include:
Outdoor amenity space will include serenity studio, reading cove, firepit and recreation area
On-site walkways will connect to Fairfax County Park Authority Trails
Earthcraft Certification for "green" design
15 Americans with Disabilities Act compliant units
Universal Design will be included in all units, and units will be built to be adaptable for future accessibility improvements as may be required
"Fairfax County is all-in when it comes to the creation of affordable housing, and Autumn Willow is another example of that fact," declared Fairfax County Board of Supervisors Chairman Jeffrey McKay. "Through Tuesday's action, we bring ourselves one more step closer to bringing the opportunity for our low-income seniors to be able to afford a decent, safe and beautiful community which takes amazing advantage of so many benefits in the surrounding area – including parks, trails, and public transit – to provide what will be an extraordinary environment for those who live here."
The project is anticipated to close on all financing by the Spring of 2022.