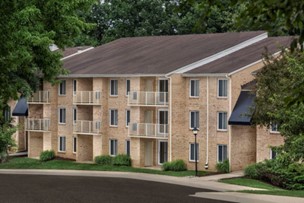 At their meeting on August 2, the Fairfax County Board of Supervisors approved a $15 million Housing Blueprint loan to a joint venture of AHC Inc. and Insight Property Group for the acquisition of Colvin Woods Apartments in Reston. This preservation of more than 250 affordable apartments is a significant accomplishment in moving to preserve the nearly 9,000 market affordable units in communities across the county. The Housing Blueprint loan will be administered by the Fairfax County Redevelopment and Housing Authority – which approved the loan at their July 21 meeting – and will be funded from the county's Affordable Housing Development and Investment Fund.
"Preservation is about making key investments in existing residential infrastructure to advance our continuing goal of ensuring that everyone who works in Fairfax County can also afford to live here," said Chairman Jeffrey C. McKay. "Our action here provides significant affordable rental options in a community of high opportunity with access to transit, employment, medical services, recreation, and all the very best of what Fairfax County has to offer."
Colvin Woods is a 259-unit apartment complex originally constructed in 1979. The property includes both one- and two-bedroom apartments. The community includes a clubhouse, leasing office, and swimming pool. Upon completion of the purchase, the owners will conduct a moderate renovation of the exterior/common areas with additional in-unit work to be completed at turnover and on an as-needed basis.
"As the county's affordable housing finance agency, this is a shining example of what we do, and do well," said FCRHA Chairman Melissa McKenna. "The preservation of Colvin Woods is a significant achievement in our pursuit of the FCRHA's and Board of Supervisors' joint goal of 'No-Net-Loss' of affordable housing in Fairfax County."
 
PHASED AFFORDABILTY

The community has been a market affordable community, but with no rent restrictions to safeguard that affordability. Upon purchasing the property, the owners will initiate a phased approach to achieve a unit mix of 60 percent of the units occupied by residents earning no more than 60 percent Area Median Income (AMI) and 40 percent of the units occupied by residents earning no more than 80 percent of AMI.
From the date of purchase through October 2025, the new owners of Colvin Woods will renew leases with current residents in good standing, regardless of income, to sustain housing affordability and avoid displacement. All naturally occurring vacancies will be leased to income-qualified tenants. By October 2027, 155 units will serve households earning up to 60 percent of AMI and 104 units will serve households up to 80 percent of AMI. After year 10, the property will go through a low-income housing tax credit refinancing, which will provide even deeper affordability for the residents and a more comprehensive rehabilitation of the property.
"This is a major step for maintaining and sustaining one of Reston's wonderful neighborhoods.  Affordable housing like Colvin Woods opens doors to long-term success for working families and avoids displacing families who would otherwise be in danger of becoming homeless," said Hunter Mill Supervisor Walter Alcorn. "As we promote housing stability and create opportunities to strengthen the individuals and families of Reston, our community grows stronger together."