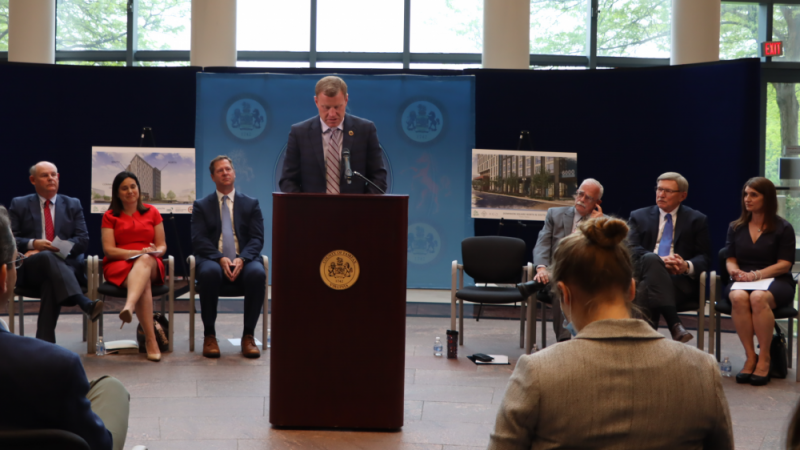 May 3, 2022 – Today, the Fairfax County Board of Supervisors, the Fairfax County Redevelopment and Housing Authority (FCRHA), Amazon, APAH and Virginia Housing joined to announce the commitment of $55 million from the Amazon Housing Equity Fund to support the Dominion Square apartment community slated for development in Tysons. The Amazon funding paves the way for the simultaneous construction of two buildings on the site, boosting the number of units delivered from 175 to more than 500 with the addition of a community center co-located on the site. These additional units will make Dominion Square the largest fully committed affordable housing development in Tysons.
"Just a few weeks ago the Fairfax County Board of Supervisors doubled the county goal for creating affordable housing – now to build a minimum of 10,000 new units by 2034. This commitment from the Amazon Housing Equity Fund, combined with county-led projects already underway or completed, increases the number of affordable units the Board has secured to already more than 3,000, a remarkable achievement and we are just getting started. In celebrating this announcement, we know that an investment in affordable housing is more than just a building, it is an investment in what our residents will achieve given the firm foundation of a safe, livable, and affordable home."

- Jeffrey C. McKay, Chairman
Fairfax County Board of Supervisors

Fairfax County's affordable housing goal targets the delivery of homes affordable to households with incomes at 60 percent of Area Median Income (AMI) – approximately $85,000 a year for a family of four – and below. The development of public-private partnerships, such as those with APAH and Amazon, have been instrumental in the county's recent success in growing the affordable housing development.
"The creation of affordable housing is a communitywide affair, and a critical component to our success has been the development of strong relationships with partners who share our vision to create opportunities for affordable housing in communities across the county.  We are proud and grateful to receive Amazon's commitment to the Dominion Square development. It is another example of how collaborative partnerships can deliver high-quality, well-connected, long-term affordable housing opportunities."

- Melissa McKenna, Chairman
Fairfax County Redevelopment and Housing Authority

"We're incredibly excited about the economic vibrancy that Amazon's HQ2 will bring to Virginia, and we also recognize that affordable housing is key to unlock opportunity for everyone. This is a unique project to create long-term affordable housing near high-quality transit and jobs and offer new resources for the community that will enrich the lives of residents and help families thrive."

- Alice Shobe, Global Director
Amazon in the Community
Dominion Square: The Complete Vision Moves Forward
 

"The significant infusion of development capital from the Amazon Housing Equity Fund enables us to accelerate construction of a second building to the south of our initially designed structure, bringing Dominion Square to more residents in the heart of Tysons. Between the resident services we will provide, WMATA's presence at Spring Hill Metro, and the best-in-class amenities and jobs Tysons is known for, we believe this development will be a welcomed asset to this community."

- Carmen Romero, President and CEO
APAH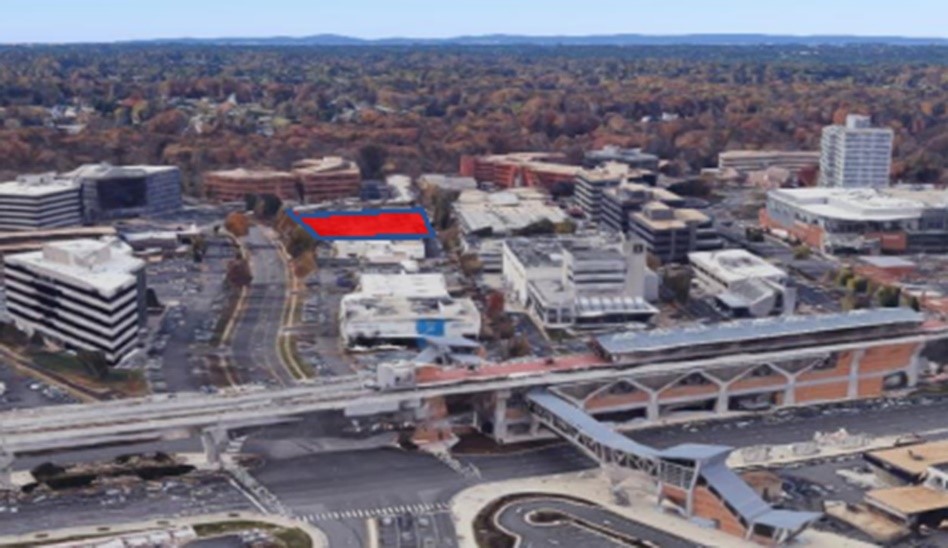 The North and South buildings of the Dominion Square development will reside just a few blocks away from the Spring Hill Metro station which offers a range of connectivity to opportunities and experiences throughout the Washington Metropolitan area. The 2-acre parcel where the development will be constructed will be purchased by the Fairfax County Redevelopment and Housing Authority (FCRHA) that will lease the property to APAH for the development, construction, ownership, and operation of the affordable housing community.
The two buildings will contain more than 500 units of affordable housing with a mix of one-, two- and three-bedroom apartments. The development will feature common areas and resident amenities including community rooms, leasing and resident services offices, outdoor landscaped areas, and a central courtyard.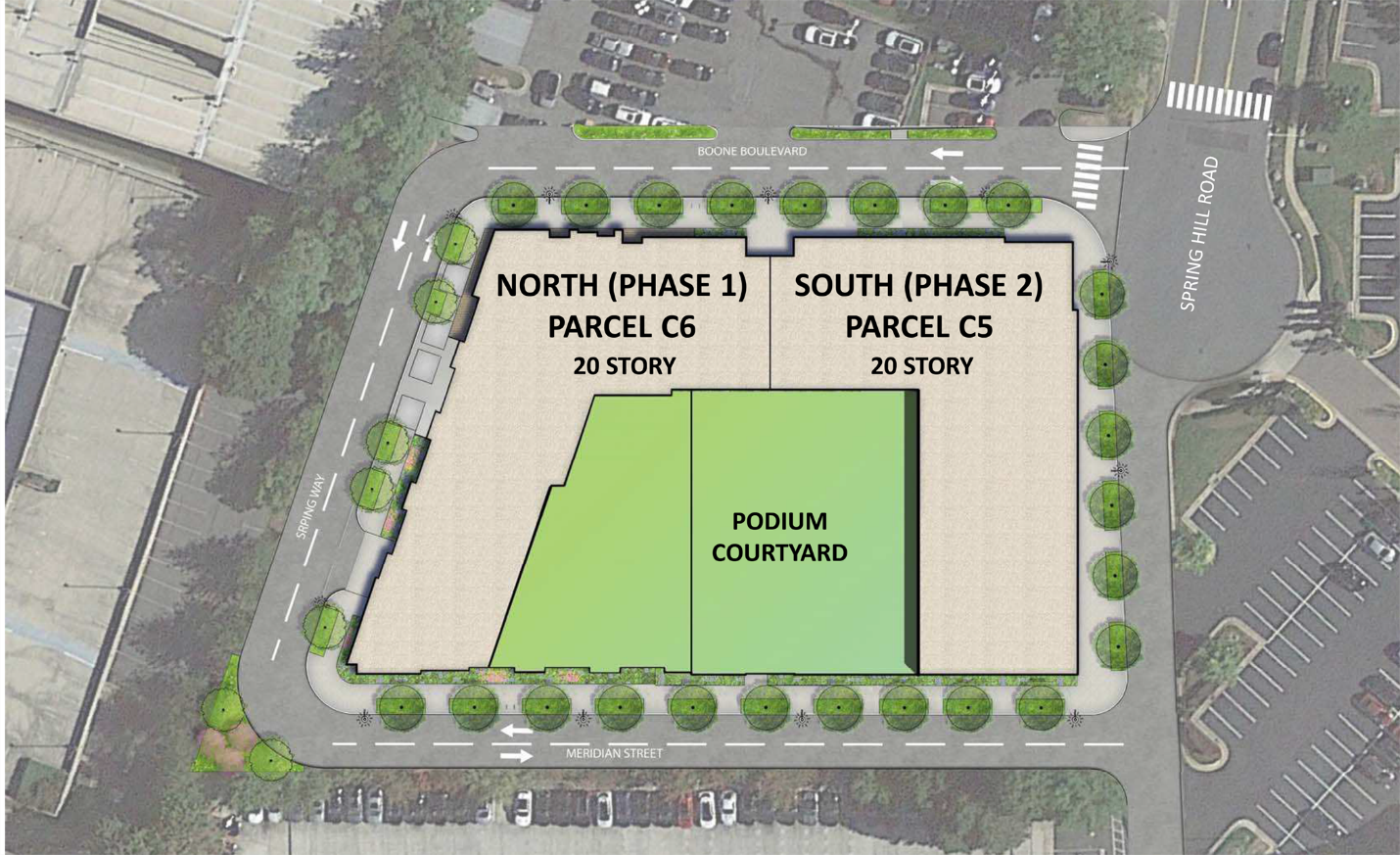 The development of Dominion Square will also incorporate a 30,000 square-foot community center on the site. The center will include many amenities to include a gymnasium, fitness room, senior and youth multi-purpose rooms, an art/maker space, sensory room, administrative offices, and kitchen. The center's developmental and recreational programs, services, and resources will be provided by the Fairfax County Department of Neighborhood and Community Services (NCS). As the planning process gets underway, NCS will solicit input from the community to consider programing and services that will meet the needs of the surrounding community.
"Dominion Square is a prime example of how affordable housing can and should be delivered with visually appealing, transit- and employment-oriented development in close connection with a variety of county services, community amenities, programs, and supports that can empower our neighbors to thrive rather than just survive."

- Walter Alcorn, Hunter Mill District Supervisor
Fairfax County Board of Supervisors
Currently it is anticipated that construction on the project could begin as early as the fall of 2023.
 
Dominion Square Brings Needed Affordability to Tysons
According to the 2020 Rental Complex Analysis, the average monthly rent in Fairfax County is $1,787. In keeping with the industry standard that "affordable" housing costs should not exceed 30 percent of household income, this means that the average household would need an income of $71,480 per year in order for the rent to be considered "affordable." According to U.S. Census Bureau data, roughly 30 percent of households in the Tysons area earn less than $75,000 per year.
"In an area where increases in monthly rent continue to outpace increases in income, Dominion Square will establish a legacy of affordability in becoming the largest fully committed affordable development in Tysons. It will serve teachers, cashiers, grocery and retail store employees, construction workers, healthcare, and social services professionals and so many more who are, today, fighting to make ends meet and maintain a stable and affordable housing situation for themselves and their families."

- John Foust, Dranesville District Supervisor
Fairfax County Board of Supervisors

Dominion Square will serve households with a diverse range of affordability with units targeted for renters earning 60%, 50%, and 30% of AMI and below. Recognizing the critical need for housing for extremely low-income households, APAH's goal is to dedicate at least 10% of the units to households earning 30% of AMI.
 
Committed Amazon Funds Added to Diverse Funding Stack
The funds committed from the Amazon Housing Equity Fund is the latest addition to a diverse funding stack that includes a significant contribution, authorized by the Board of Supervisors and the FCRHA, of $43 million in public resources already committed for land acquisition and development by Fairfax County in January of 2022. The complete breakdown of the county's allocation is as follows:
$13.3 million loan from the local Affordable Housing Development and Investment Fund
$8.7 million from the Housing Trust Fund (comprised of housing proffer contributions from commercial properties in Tysons)
$10.9 million in American Rescue Plan Act funding
$10 million from the FCRHA
Virginia Housing, the Commonwealth's housing finance agency, has continued to be an instrumental partner in crafting creative solutions to meet the requirements of diverse funding mechanisms that came together to make Dominion Square possible and affordable to households on the lower end of the income spectrum.
"In general, to make housing affordable to households in lower income tiers, you need more subsidy, and it can be a challenge to connect a multitude of funding programs with all of their varied requirements and regulations. Dominion Square is the latest in a growing list of success stories with Fairfax County and the development community where creativity and outside-the-box thinking have created a financial model for other localities and partners to help solve the affordability challenge and we are proud to be a part of that solution."

- Art Bowen, Managing Director of Rental Housing
Virginia Housing
###

About the Fairfax County Redevelopment and Housing Authority
Media Contact: Ben Boxer (Benjamin.Boxer@fairfaxcounty.gov; 703-246-5092)
Fairfax County Redevelopment and Housing Authority (FCRHA) serves nearly 20,000 residents through a variety of rental housing assistance and homeownership program, and owns and operates nearly 4,000 units of housing – including multifamily housing, senior housing, licensed assisted living and specialized housing for tenants with a variety of needs. The FCRHA also oversees and administers Fairfax County's land use housing programs and the investment of public land and local funds (including state and federal grants) to increase and/or preserve the county's stock of affordable homes.
 
About the Amazon Housing Equity Fund
Media Contact: amazon-pr@amazon.com
Since January 2021, Amazon has committed $795 million in loans and grants to create or preserve 4,400 affordable homes in and around Arlington, Virginia, and Washington, D.C. Based on data provided by Arlington County, the Amazon Housing Equity Fund's efforts in just the past year have increased the long-term committed multifamily affordable housing stock in Arlington by 22%. Learn more about the Amazon Housing Equity Fund here: https://www.aboutamazon.com/impact/economy/housing-equity/fund
 
About APAH
Media Contact: Garrett Jackson (gjackson@apah.org; 571-733-9617)
Founded in 1989, APAH now helps more than 2,000 households live in stable, secure, and affordable rental homes across the Washington, DC region. APAH has 500 affordable apartments under construction and an additional more than 1,200 in its development pipeline. APAH is the recipient of numerous housing development awards including: 2019 ULI Washington Trends Award for Excellence in Affordable Housing—Columbia Hills; Virginia's Best Affordable Housing project by Virginia Housing—Columbia Hills and Gilliam Place; 2019 Top 50 Affordable Housing Developers by Affordable Housing Finance Magazine; 2021 Developer of the Year by the Housing Association of Nonprofit Developers (HAND); and most recently, 2022 HAND Housing Achievement Awards in the Best Large Affordable Housing Project Category—Queens Court Apartments.

About Virginia Housing
By investing in the power of home, Virginia Housing transforms where and how millions of Virginians live and thrive, strengthening communities and the economy. Founded in 1972 as a self-supporting Authority, Virginia Housing is celebrating its 50th year of working in partnership with the public and private sectors to help Virginians attain quality, affordable housing. Learn more at www.virginiahousing.com