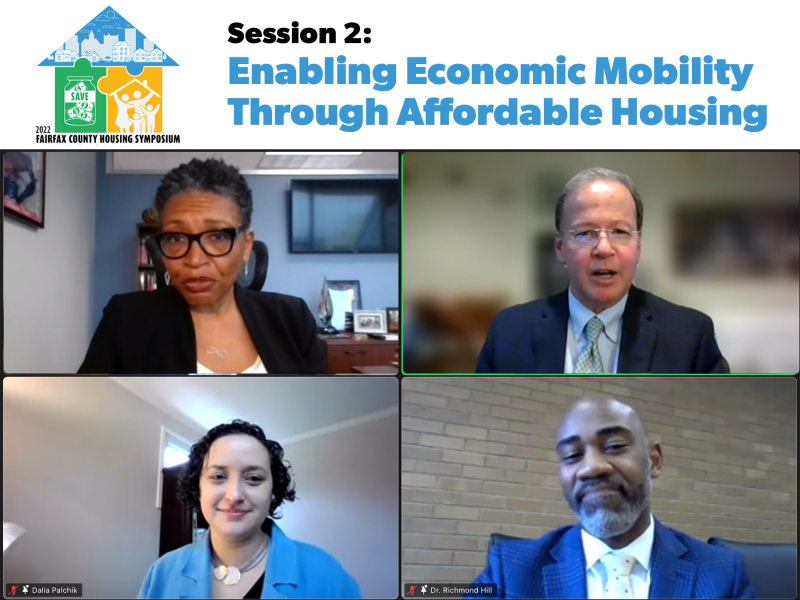 "We need to be able to find diverse tools as we redevelop to ensure that we're including both housing for our workforce and that we have senior affordable housing. We need to ensure that there is adequate amounts and continued growth in our affordable and diverse housing types."
- Supervisor Dalia Palchik, Fairfax County Board of Supervisors, Providence District
 
"Nine times out of ten when students are faced with the tough decision of starting or continuing their education versus being able to eat, live, and move about in Northern Virginia, education is going to be put to the side. We see individuals turning to work in order to make ends meet but not earning the credential that will help move them beyond that living wage to be able to really thrive."
- Dr. Richmond Hill, Associate Vice President, Student Support Services, Northern Virginia Community College
 
"Our metropolitan Washington planning framework advances equity, transportation, affordable housing, and climate change as four interlocked pillars for a vision in this region for the future."
- Paul DesJardin, Director, Community Planning Services, Metropolitan Washington Council of Governments
The second session of the 2022 Fairfax County Housing Symposium featured a panel of public and private sector leaders to address the essential role of housing for advancing equity and economic mobility for Fairfax County residents at all stages of life – young adults to seniors. Panelists shared data and practical examples of how affordably priced housing for a range of income levels contribute to residents' ability to achieve housing stability, connect with community resources and employment opportunities that promote their continued growth and well-being.
"Housing is critical for the ability to connect to the opportunities that exist in the community," said Karla Bruce, Fairfax County's Chief Equity Officer. "We have a philosophy of 'Communities of Opportunity' in Fairfax County and we want people to have access to opportunities no matter where they live. We know that opportunities are available in many areas of the county and that affordable housing should be brought to those areas as well."