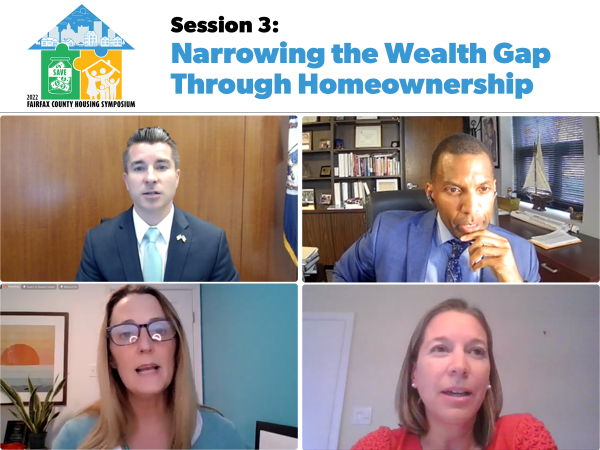 "The median wealth of homeowners is 40 times higher than that of renters. During the pandemic, homeowners have seen their wealth soar as home equity grew by 42 percent. The average white family has eight times the wealth of the average black family and five times the average wealth of the Hispanic family. A primary reason for this racial wealth gap is due to the disparity in homeownership rates."
- Lisa Sturtevant, Chief Economist, Virginia Realtors
 
One initiative that I'm very focused on is looking at ways to bring skills training and employment to our residents [in Lee District] so that they can move up their ladders of opportunity. The reason for this is if they have higher income, they'll eventually be able to afford housing here in Fairfax County."
- Supervisor Rodney Lusk, Fairfax County Board of Supervisors, Lee District
 
"In Fairfax County there aren't many huge opportunities for greenfield building anymore, so builders are looking into redeveloping either existing commercial offices or retail or commercial in general that can be converted into residential. [Developers] are working with Fairfax County facilitating and expediting the rezoning and entitlement of land so we can build houses more quickly."
- Soledad Portilla, Vice President of Land Acquisition, Beazer Homes
In this session, a panel of public and private sector leaders took a deeper dive into the opportunities and roadblocks surrounding homeownership and the wealth gap. Participants reviewed the latest data on homeownership, several barriers to homeownership (including the county's supply of affordable for-sale properties) and potential solutions for enhancing the possibility of homeownership through new development (tackling issues of density, conversion of commercial space), policy enhancements (tax incentives and zoning), and other community services.
"We need innovative policy solutions to increase and develop a diverse housing stock that is affordable to a range of households," said Ryan McLaughlin, CEO of the Northern Virginia Association of Realtors. "It is particularly important in our current environment with increasing house prices and low inventory."