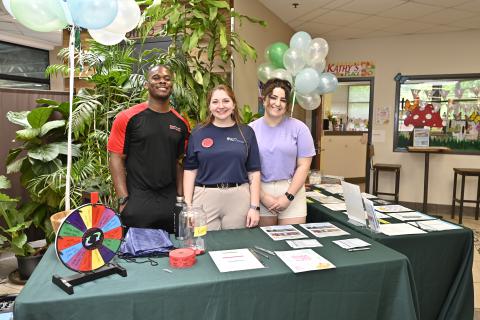 On Wednesday, Sept. 27, Fairfax County Park Authority Rec Centers will be opening their doors to everyone for free. Attend this Open House event to explore the wonderful world of Rec Centers — tour facilities, meet staff and walk away with either a 7-day trial membership or a 30 day for $30 membership.
Enjoy free Rec Center admission all day, but visit between 4 and 7 p.m. to participate in special programming and fun events. In addition to a membership booth, Rec Centers will hold fitness demonstrations for specific health and wellness programs, provide snacks and host activities for children, such as arts and crafts and a scavenger hunt. Rec Centers will be offering:
Sample classes and demonstrations
Giveaways
Family-friendly activities and games
Membership information
And more!
Learn more about each Rec Center's Open House by visiting the Rec Center webpage.
Below are the Rec Centers and their addresses:
Audrey Moore, 8100 Braddock Road, Annandale, 703-321-7081
Cub Run, 4630 Stonecroft Blvd., Chantilly, 703-817-9407
Franconia, 6601 Telegraph Road, Alexandria, 703-922-9841
George Washington, 8426 Old Mt. Vernon Road, Alexandria, 703-780-8894
Oak Marr, 3200 Jermantown Road, Oakton, 703-281-6501
Providence, 7525 Marc Drive, Falls Church, 703-698-1351
Spring Hill,1239 Spring Hill Road, McLean, 703-827-0989
South Run,7550 Reservation Drive, Springfield, 703-866-0566
For specific details about what to expect at the open house, please contact each center directly.
View the Rec Center Open House flyer
In addition, purchase or renew annual membership to access the Park Authority's entire network of Rec Centers by Sept. 30 to receive a 15% discount. Purchase today at the Parks passes webpage.