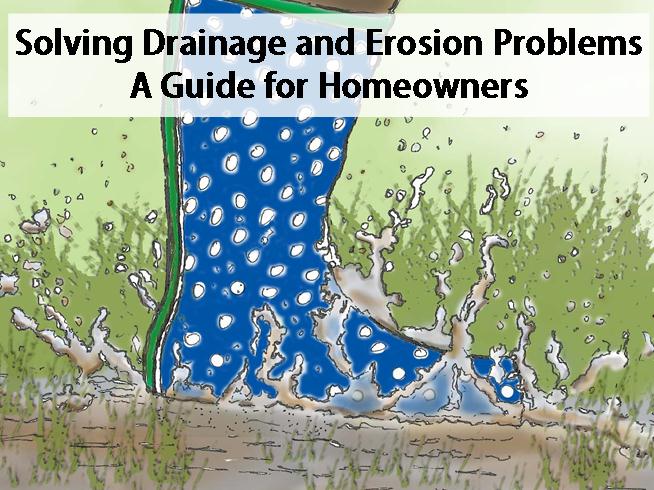 No homeowner wants a drainage or erosion problem to affect their home or landscape. This guide will help you troubleshoot and solve these problems.
This guide for homeowners was created by the Northern Virginia Soil and Water Conservation District. It is intended for use by homeowners on small-scale home projects. Larger projects may require permits or hiring a contractor. If you have doubts about the scale of your project, please contact us.
Before You Begin
Resource Protection Areas. For environmental and legal reasons, Chesapeake Bay Resource Protection Areas (RPAs) - wetlands, tidal coastline, floodplains, perennial streams, and their buffer zone - should not be altered without permission. Land disturbance is highly restricted in these areas. Do I have an RPA on my land?
Know Your Soil. Before starting work, know what type of soil you have and typical infiltration rate, erosion potential and depth to groundwater. Find your soil type.
In a New Development under bond, the builder may be responsible for fixing drainage problems that arise as a result of inadequate grading.
Miss Utility. Before you dig, remember to call Miss Utility to ensure there are no underground utility lines near your planned work area. Call 811 in Virginia or 1-800-552-7001.
Work Together! Wet conditions or erosion problems often occur throughout a neighborhood. Coordinating with neighbors and addressing problems at the source can save everyone time and money.
Solve the Problem
Runoff from roof downspouts, impervious areas and neighboring properties can be heavy during storms and your lawn or property can become inundated for a short period of time. Stormwater runoff can either be redirected or captured for better control.
Yard erosion occurs when soil is washed off of the property by runoff. Yard erosion leaves behind bare spots, gullies, and scouring. Eroded sediment can be left behind on driveways, sidewalks, or flat areas.
Wetness or erosion near foundation walls and drip line can be very damaging. Possible causes include gutters that need to be cleaned or are undersized, downspouts and sump pump pipes and poor grading around foundation walls.
This can include puddles or sogginess on the property in the days following a rainstorm, or wetness for months regardless of the weather. Wet conditions can be found in isolated spots, widespread areas of the lawn, or areas near the gutters, downspouts and sump pump discharge pipes.
Depressions or low spots can develop in urban yards. (In our area, these technically aren't real sinkholes, but since homeowners use the term, we will too.) You may find them along outside walls or in the yard. Their shape and size can vary, and they can grow or deepen slowly or rapidly. Often sinkholes can be repaired by the homeowner.
In The House
Wet basements and wall or foundation cracking can have serious consequences for your home's structural integrity and your health. They should be addressed right away.
Wet Basements
Most wet basements are a result of water problems outside of the house. You might find flooding, seepage or mold on the walls or floor. There are a number of actions that can be taken to prevent wetness in the basement:
Make sure your sump pump is turned on and functioning.
Clear basement stairwell drain grates of leaf litter and debris.
If the problem remains, call a professional.
Wall or Foundation Cracking
Cracks in the wall or foundation can have many causes, the solutions for which can vary greatly in cost. You might find cracks on walls, at the corners of door and window frames, on structures built on steep slopes, or forming during freezing temperatures.
Glossary, Please! Every subject area uses different terms, and sometimes it can seem that we need a dictionary just to understand the basics. You will find links to the glossary throughout this guide or you can read them all at once.