There are many trails and bike routes throughout Fairfax County that are suitable for all ages and abilities. Whether you are going for a spin around the neighborhood, biking to work or school, or enjoying your local park on two wheels, the Fairfax County Bike Map can help you find the best and most enjoyable route to your destination.
Fairfax County 2023 Bike Maps 
(Update: Spring 2023) Fairfax County's 2023 Bike Map is updated and in stock. County residents can use the Bike Map Request Form to request a new map; organization representatives may request multiple copies to be picked up at the FCDOT office in Fairfax.
You can also obtain a free copy of the print version of this map at a variety of locations around the County, such as local bike shops, the information desk at the Fairfax County Government Center and any district supervisor's office. For any of these locations, FCDOT recommends calling ahead to make sure they have printed versions in stock.
Download the 2023 Bike Map in English: Front  Back
We are currently working on a 2023 Bike Map Spanish version.
Download the 2020 Bike Map in Spanish: Front  Back
 
Bike Fairfax Interactive Map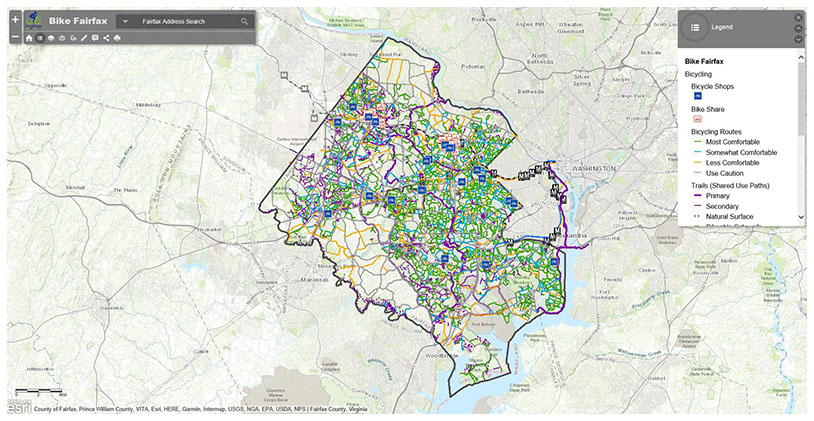 The Bike Fairfax Interactive Map displays the same useful information found on the printed version of the Fairfax County Bicycle Map in an interactive online format. The map can be viewed on a smart phone without an app; simply click on the image of the map above and it is ready to use! Please note, this map currently does not include the 2023 updates. Also, this is not a live map and does not reflect real-time conditions. For the most current road and construction information, please visit VDOT's Virginia Traffic Information.
Choose Your Route
For Beginners and Families: Paved trails and quiet neighborhood streets, shown in purple and green respectively, are the most pleasant places to ride, and are fun for users of all ages and abilities. Enjoy a family ride to the park or bike to your nearby ice cream shop. Have fun, relax and enjoy the ride!
Suitable for Most Adults: Routes shown in blue are still comfortable for most adults, but may not be suitable for young children due to slightly higher traffic volumes. Some of these roads have bike lanes, ride-able shoulders or shared lane markings.
For Experienced Cyclists: Only people with significant riding experience would feel comfortable on most orange routes, where riders can expect to interact with more and faster motor vehicles. These routes can be very congested during peak hours, but experience low traffic volumes at other times. Routes shown in dark gray are busy arterials or narrow, winding country roads, and are not suitable for the average cyclist. Experienced cyclists should use these roads with caution. Some of the arterials have wide shoulders or bike lanes. Less confident riders should:
look for a parallel trail or green neighborhood route;
ride on the sidewalk when there is no alternative available (which is legal, but ride with traffic if possible and use caution at driveways - drivers may not expect you); or
find a bus to continue your trip (bikes can be loaded on bike racks in front).
Features
There are a variety of tools and features to help users navigate the map, including:
Print - Once zoomed in to a particular area, the user can print out a map displaying the view in the window.
Search - The map provides the ability to search for an address within Fairfax County allowing the user to quickly find bike routes and trails nearby.
Share - The map has a built in tool making it easy to share route location via email, Facebook or Twitter.
Learn More - Many of the lines and symbols displayed on the map link to additional information. Clicking on the line or symbol opens a dialog box with the details of that location.