The Fairfax County Department of Transportation Bicycle Program will host group bike rides to help area bicyclists learn more about the new and expanding bike network in their community. Rides will be led by FCDOT staff.
The inaugural "Let's Ride!" event was held on Wednesday, Aug. 2, before the Richmond Highway Widening Dedication Event at Pillar Church of Woodlawn. The eight (8) mile ride along Jeff Todd Way, Telegraph Road, the Fairfax County Parkway and Route 1 conclude back in the church parking lot in time for the ribbon cutting. There are paved and off-road trails for the entire route, so bicyclists of all abilities should be comfortable on the trip.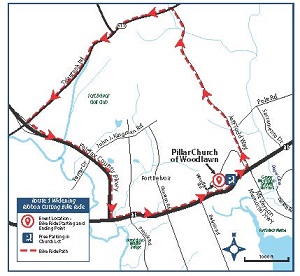 Pictures from the ride can be found in our Facebook album.
Helpful Tips and To-Do's:
Plan to arrive by 8:30 a.m. so the ride can start at 8:45 a.m.
All riders must bring and wear their own helmet.
Please bring your own water bottle.
In order to join a "Let's Ride" event, participants must sign a waiver form (copies also provided the day of the event prior to the ride).
For planning purposes, staff requests you RSVP to DOTbicycleprograms@fairfaxcounty.gov or use the comment form on this page to let us know that you can join us!