For Immediate Release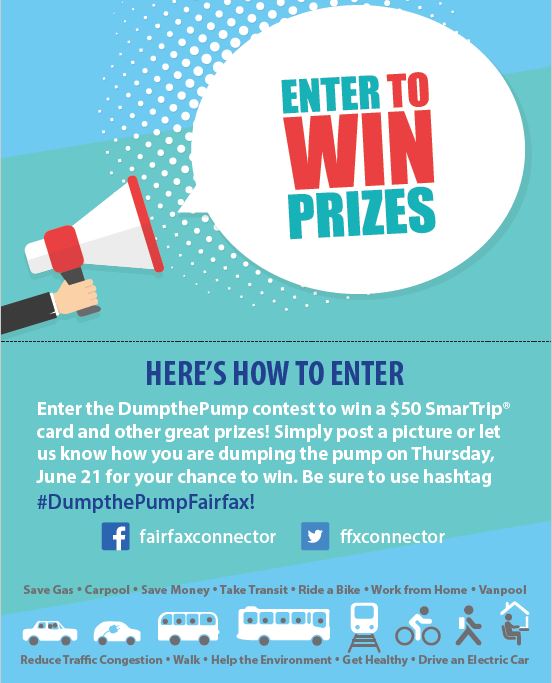 June 18, 2018
#T018_18
Fairfax County encourages drivers to hop on public transit or share a ride on National DumpthePump day, June 21, 2018! According to the American Public Transportation Association, individuals in a two-person household can save an average of $10,134 annually by downsizing to one car. If cars stay home one day a week traffic will be reduced by 20%. Whether you take transit, share a ride, drive an electric car, bike, walk or work from home, you're helping save gas, money and the planet!
Easy Ways to Dump the Pump
Take the Fairfax Connector, Metrorail and/or VRE
Rideshare: carpool or vanpool
Drive an electric car
Bike or walk to work
Work from home
For commuters who travel I-66 Outside the Beltway:
Contact Fairfax County Commuter Services at 703-877-5704, TTY 711,  for information about ridesharing or corporate technical assistance to establish a telework program.
Enter to Win Great Prizes
Fairfax County is sponsoring a DumpthePump contest to win a $50 SmarTrip card and other great prizes. Post a picture or share how you are dumping the pump on Thursday, June 21, for your chance to win.
Post pictures and comments and tag the Fairfax Connector Facebook or Twitter.com/ffxconnector. Be sure to use hashtag #DumpthePumpFairfax!
###