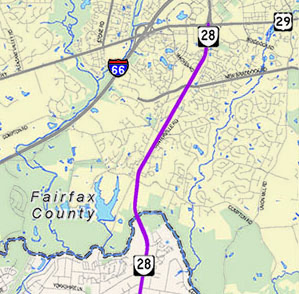 Route 28 serves residential and business destinations from Remington in Fauquier County to Route 7 in Loudoun County, connecting Route 29, Route 234, I-66, Route 50, Dulles International Airport and Route 267 in between. The corridor has experienced increased congestion for many years, particularly in Prince William and Fairfax Counties south of I-66. To address this congestion, the Fairfax County Department of Transportation (FCDOT) proposes widening Route 28 for a distance of approximately 2.3 miles from the existing bridge over Bull Run to the interchange at Route 29. The project includes:
widening the existing four lane roadway
adding additional lanes on side streets to improve intersections
upgrading existing traffic signals
improving bicycle and pedestrian connections and crossings, including new 10' shared-use path on both sides of Route 28
View a detailed map of the project and proposed widening.
 
Project News and Updates
FCDOT held a Community Information Meeting about the Route 28 project on April 3, 2018. Feedback was due by May 4. The meeting presentation is available: 
Preliminary information on current design plans, project schedule, existing conditions, traffic analyses, concept plan development, right of way, utilities, environmental studies, costs, funding and more are available on the Route 28 Project Information page.