Community Meeting for Slug Line Users and Commuters Set for Thursday, March 22, 2018
Fairfax County Department of Transportation (FCDOT) and Department of Public Works and Environmental Services (DPWES) will hold a public meeting regarding the Springfield Community Business Center Commuter Parking Garage on Thursday, March 22, 2018, at 7 p.m., at Edison High School, Cafeteria A, 5801 Franconia Road, Alexandria, VA.
Commuters who use the existing Old Keene Mill Road Park and Ride lot at 7039 Old Keene Mill Road, and adjacent commuter parking lots at Springfield Plaza, Springfield United Methodist Church and the American Legion are invited to learn about the planning and design of the new parking garage.
For more information, please submit questions via the form on this web page; in writing to FCDOT, 4050 Legato Road, Suite 400, Fairfax, VA 22033; or by calling 703-877-5600.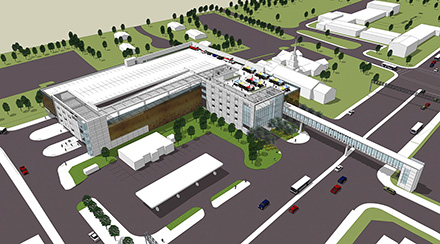 FCDOT ensures nondiscrimination in all programs and activities in accordance with Title VI of the Civil Rights Act of 1964 and the Americans with Disabilities Act (ADA). If you need this information in an alternate format, contact FCDOT at 703-877-5600, TTY 711. Requests for assistance must be received at least 7 business days in advance of an event.
Previous Meeting Information
Project Background
The Springfield Multi-Use Parking Garage is a six-level structure that will hold approximately 1,000 parking spaces, and will enhance commuters' transportation options with the installation of:
a bus transit center and seven bus bays
commuter (slug) spaces
a short-term parking area for pick up and drop off
a pedestrian bridge over Old Keene Mill Road, connecting the garage to Springfield Plaza
bicycle storage
community areas for gatherings and events on the ground level and roof top
Design is in progress, and construction is anticipated to begin in fall 2019 with the facility opening in early 2022. The County will be identifying alternate, temporary parking for the users of the existing park-and-ride lot to use during construction.
The total project estimate is $63.81 million, and is fully funded by the Federal Transit Agency, Congestion Mitigation and Air Quality Improvement Program (Federal Highway Administration), and the Fairfax County Commercial and Industrial Tax.
In 2014, Fairfax County completed a feasibility study for a multi-use commuter parking facility and transit center identified in the Fairfax County Comprehensive Plan. The facility will be constructed on an existing surface commuter parking lot owned by the County on Old Keene Mill Road west of I-95 in the Springfield Community Business Center.