News and Updates
Spring 2019 Community Meetings Announced; Comments Due by May 6
The Fairfax County Department of Transportation (FCDOT) will host a second round of public meetings in late March and early April: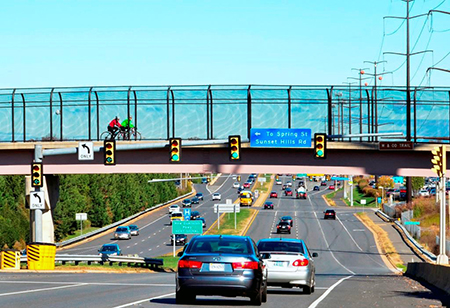 The meetings will begin with a formal presentation at 7 p.m., followed by a question and answer period. Participants will then have the opportunity to provide feedback to the FCDOT study team through comments and public input activities. The team will present potential future improvements to the Parkway by segment, and feedback gathered this spring will help determine which improvements will be developed for screening and testing.
For residents who cannot attend the public meetings, please check this page after April 4 to view the meeting presentation and take the online survey. Comments will be accepted through May 6, 2019. 
 
Community Meetings
A summary of the October 2018 community meetings was presented to the Board Transportation Committee on Feb. 12, 2019. The presentation can be viewed as a PowerPoint file or video below:
FCDOT held three public meetings on the Fairfax County & Franconia-Springfield Parkways Alternatives Analysis and Long Term Planning Study input on future corridor enhancements for the Parkways, based on residents' personal experiences and desires for multimodal access, connectivity and overall operations. Meetings were held:
Tuesday, Oct. 9, 2018, at Navy Elementary School, 3500 West Ox Road, Fairfax
Thursday, Oct. 11, 2018, at Sangster Elementary School, 7420 Reservation Drive, Springfield
Tuesday, Oct. 16, 2018, at Armstrong Elementary School, 11900 Lake Newport Road, Reston
Attendees learned more about the study and took part in activities to give feedback on what they envision for the parkways.
 
Project Activities and Schedule
The anticipated schedule of the Long-Range Planning Study includes:
Public Outreach #1 – Identify Future Deficiencies and Needs within the 30+ Mile Corridor (October 2018)
Develop Preliminary Alternatives (Fall 2018/Winter 2019)
Public Outreach #2 – Development and Testing of Preliminary Alternative Solutions (Spring 2019)
Identify Preferred Corridor Alternatives (Spring-Summer 2019)
Public Outreach #3 – Study Recommendations (Fall 2019)
Comprehensive Plan Amendment Process (Winter-Spring 2020)
 
Project Background
FCDOT, in coordination with the Virginia Department of Transportation (VDOT), is conducting a multimodal corridor study for the Fairfax County Parkway (Route 286) from Route 7 (Leesburg Pike) to Route 1 (Richmond Highway). The study corridor is approximately 31 miles in length and consists of 83 intersections and 17 interchanges. There is a short-term and a long-term component of the study.
The Long-Range Planning Study, led by FCDOT and in collaboration with VDOT, will provide recommendations for 2040 and beyond for the FCP/FSP corridor. It will consider whether changes should be made to the county's current Transportation Plan. Intensive analysis using the County's Traffic Forecasting Model will be used to determine future network deficiencies. Alternatives to remedy those deficiencies will be developed, and public input will be sought on those alternatives. Final recommendations will be considered for incorporation into the county's Transportation Plan. Some questions that are to be addressed in this study are:
The degree to which existing intersections should be considered for conversion to interchanges or under/ overpasses
How transit should be integrated into the corridor
Whether tolling and or HOV lanes on the Parkways should be planned.
Bicycle/ pedestrian mobility
Further input and direction from the public will help develop these preliminary alternatives and lead to an FCDOT / VDOT final recommendation in identifying a preferred alternative concept plan.
The Short-Term Study, led by VDOT, was completed in 2017. The study evaluated existing transportation issues and developed recommendations for short-term multimodal improvements that can be implemented within one to ten years. Additional project resources:
FCDOT ensures nondiscrimination in all programs and activities in accordance with Title VI of the Civil Rights Act of 1964 and the Americans with Disabilities Act (ADA). If you need this information in an alternate format or would like to request reasonable accommodations for persons with disabilities or limited English proficiency, contact FCDOT at 703-877-5600, TTY 711. Requests for assistance must be received at least 7 business days in advance of an event.