Study News: Summary of Public Outreach (Round 3) Available
The Fairfax County Department of Transportation has processed outreach from the July/August 2020 public meetings, including comments and survey responses. Based on this input, recommendations presented at the summer public meetings remain unchanged. Final modeling and analysis is ongoing. 
Staff will take the final report to the Board of Supervisors for endorsement in Winter/Spring 2021. If endorsed, the Comprehensive Plan Amendment process will commence to formally change long term recommendations for the Fairfax County and Franconia-Springfield Parkways.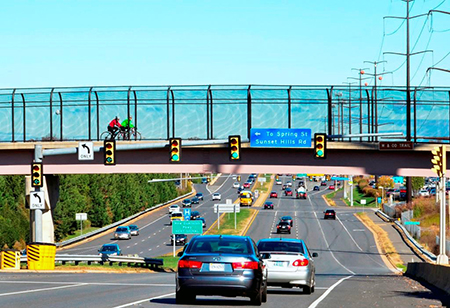 Over the last two years, FCDOT has worked to identify current deficiencies and future needs along the 31-mile corridor that stretches from Route 7 (Leesburg Pike) in Herndon to Route 1 (Richmond Highway) in Alexandria, suggest improvement strategies, and develop and test the Preliminary Alternatives that will be presented this summer. The goals of the Study include creating a more efficient option for commuters while serving local residents, minimizing impacts to property owners and the environment, and optimizing high occupancy vehicle (HOV) lanes.
To date, the Fairfax County Department of Transportation (FCDOT) has held three rounds of community meetings with opportunities for feedback and public comment in person and through online surveys. FCDOT gathered feedback during the meetings; via comments submitted online, via mail or by phone; and a post-presentation survey.
With this feedback, FCDOT plans to test these preliminary recommendations in its transportation models to ensure that the recommended improvements address future demand/commuter needs. FCDOT will present the final recommendations to the Board of Supervisors this winter. Once the Board of Supervisors have endorsed the Study, FCDOT will propose amending the Comprehensive Plan in Spring 2021. FCDOT also will prioritize the Study to show which recommendations may be implemented in the near future versus over a longer (10-50 year) horizon, as funding allows.
Stay in touch with the Parkways Study and FCDOT:
Visit this webpage for project updates and meeting notices
Receive notifications to your phone or email by subscribing to Fairfax Alerts
Follow FCDOT on Facebook
FCDOT ensures nondiscrimination in all programs and activities in accordance with Title VI of the Civil Rights Act of 1964 and the Americans with Disabilities Act (ADA). If you need this information in an alternate format or would like to request reasonable accommodations for persons with disabilities or limited English proficiency, contact FCDOT at 703-877-5600, TTY 711. Requests for assistance must be received at least 7 business days in advance of an event.