CSB Recognizes National Bike Month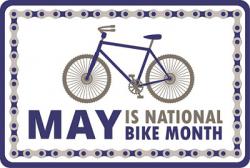 Bicycles can play an important role in the lives of people in treatment for addiction. In addition to the benefits of exercise, riding a bike may be the only source of transportation for someone whose years of substance abuse cost them their driving privileges. For one Fairfax County man, in treatment at Crossroads, a residential program operated by the Fairfax-Falls Church Community Services Board (CSB), a renewed interest in bicycles has become a key part of his recovery.
Chip's* Story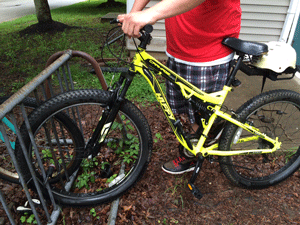 Bicycles have always played a huge role in Chip's life. At age 15, he carefully, methodically built his own customized BMX bicycle. He loved that bike. One day, the chain popped when he was riding home from the neighborhood swimming pool. He walked the bicycle to a safe location, hid it and thought he could return to find and fix it the next day. But the bike was gone when he returned.
Eventually, alcohol and drugs took the bike's place. Chip became addicted to heroin and came close to death after multiple overdoses. Now, he's working hard for his recovery.
At Crossroads, Chip has rekindled his interest in bicycles. One day, he noticed a small fleet of bikes that looked like they needed some care and attention parked in a rack at the rear of the building. With time on his hands and needing a way to relieve stress, he borrowed a few tools and showed CSB staff what he could do. One by one, Chip repaired and rebuilt each of the five bicycles as he, in turn, rebuilt and repaired his new life into sobriety. 
"Every day, I look forward to maintaining these bikes; I am giving something back to this program; it makes me feel good," he says. Chip is looking forward to graduation from the program and to, one day, opening his own bicycle repair shop. "For the first time I can remember, I finally feel alive," he says.
Chip points out that cycling provides people with structure, as they must obey the rules of the road, pay attention to surroundings while riding, wear a helmet and respect the bike. Everything has to work properly, together and at the same time, to get someone from point A to point B.
Jerry Proctor, a CSB supervisor, has been working with Crossroads clients for almost 19 years. "We've got five bikes that are operable; I wish we had more," he says. "They are clearly an important part of the recovery of our clients. Years of drug use take a heavy toll on the body, both physically and mentally. I've seen the positivity that surrounds our current biking program, and it's a beautiful thing to see."
Crossroads Director Stacey Lawson has seen the benefits of bicycling in strengthening the mind and body as clients heal. "Many of our clients go home or to jobs in the community on weekends; some may not be able to afford buses," she says. "Many people are not aware of the important role a bike can play in someone's life."
Learn more about 2017 Bike Month events.
By taking small strides to improve mental health and wellness, big changes can happen over time.
*Chip is a pseudonym used here to protect CSB client confidentiality.